This post may contain affiliate links/ads and I may earn a small commission when you click on the links/ads at no additional cost to you. As an Amazon Affiliate, I earn from qualifying purchases. Techsphinx also participates in the StationX Affiliate program. You can read my full disclaimer here.
Protecting your online accounts has become an important and tedious task. Gone are the days, when passwords were enough to keep your account safe from hackers.
Nowadays, having a 2-factor authentication (2FA) or multi-factor authentication (MFA) has become a necessity, especially for your E-Mail accounts. If the E-mail is compromised, then a hacker can try password recovery methods to gain access to other services and apps connected with that email account.
2-FA or MFA can be implemented in many ways. However, the simplest, best and coolest method is to use a physical security key.
Note: It is always recommended to buy security keys in pairs. In case, your primary key is lost, you'll have your second security key as a backup which will prevent getting locked out of your accounts.
Here's a summary of the best security keys:
Best Security Keys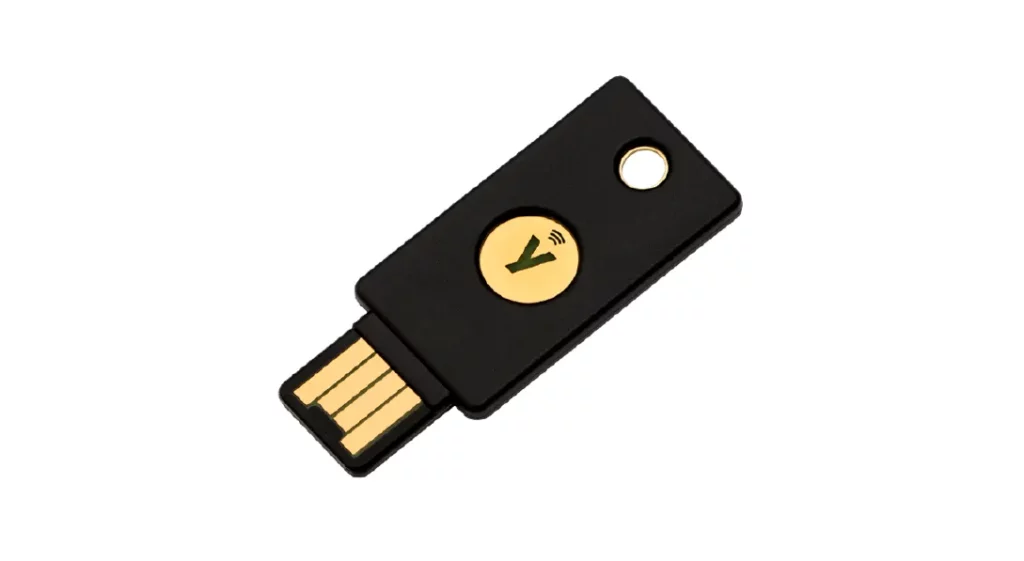 The first one on the list is the Yubico – Yubikey 5 NFC security key. It fits in a USB Type-A port and works with supported NFC-compatible Android and iOS devices.
Yubikey 5 works with Google Chrome and other FIDO-compliant applications on Windows, Linux and macOS. Moreover, you'll get out-of-box compatibility for Gmail, Facebook, Dropbox, Outlook, LastPass and many other websites and services.
Apart from that, Yubikey also has multi-protocol support that includes FIDO2, FIDO U2F, Yubico OTP, OATH-TOTP, OATH-HOTP etc. This wide range of protocol support makes it one of the most compatible keys on the market.
You don't have to worry about the durability of Yubikey 5 either, since it is water and crush-resistant and doesn't have any moving parts. Also, it is compact enough to fit in your wallet or to put in your keyring.
If you're looking for the best security key, then look no further Yubikey 5 NFC is the best and most popular security key available on the market right now.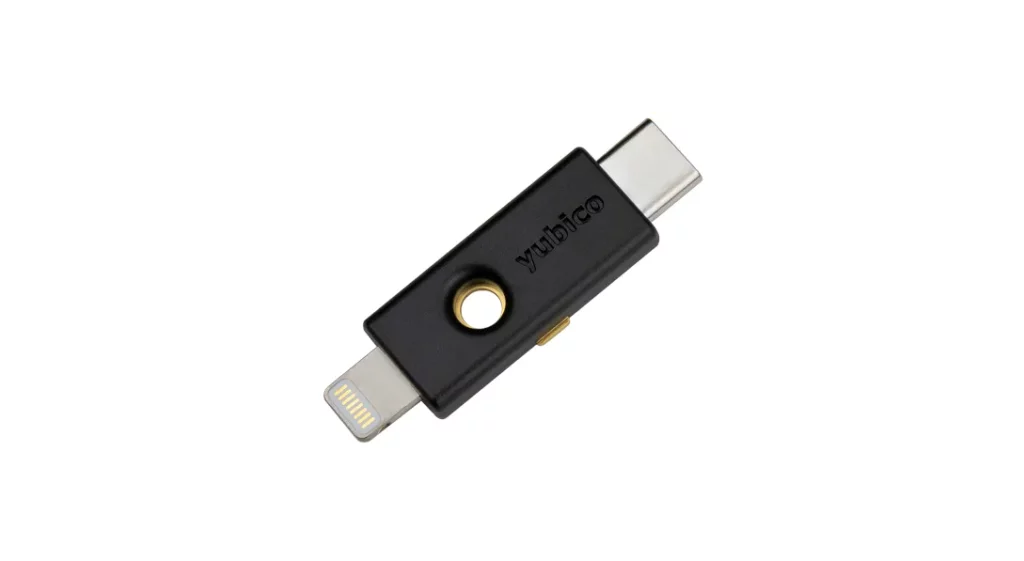 Yubico – Yubikey 5Ci is an Android and iOS friendly security key. It features dual connectors for USB Type-C and Lighting ports.
It doesn't offer NFC support. Apart from that, most of the features like compatibility with various websites and services, muti-protocol support etc. are similar to the previously mentioned YubiKey 5 NFC.
Moreover, YubiKey 5Ci is water, dust and crush resistant. So, you don't have to worry about durability. There is also a keyhole available to put on a keyring.
It is on the expensive side when compared to other security keys on this list. However, if you want a security key to primarily use with Android or iOS devices, then YubiKey 5Ci will be the optimum choice.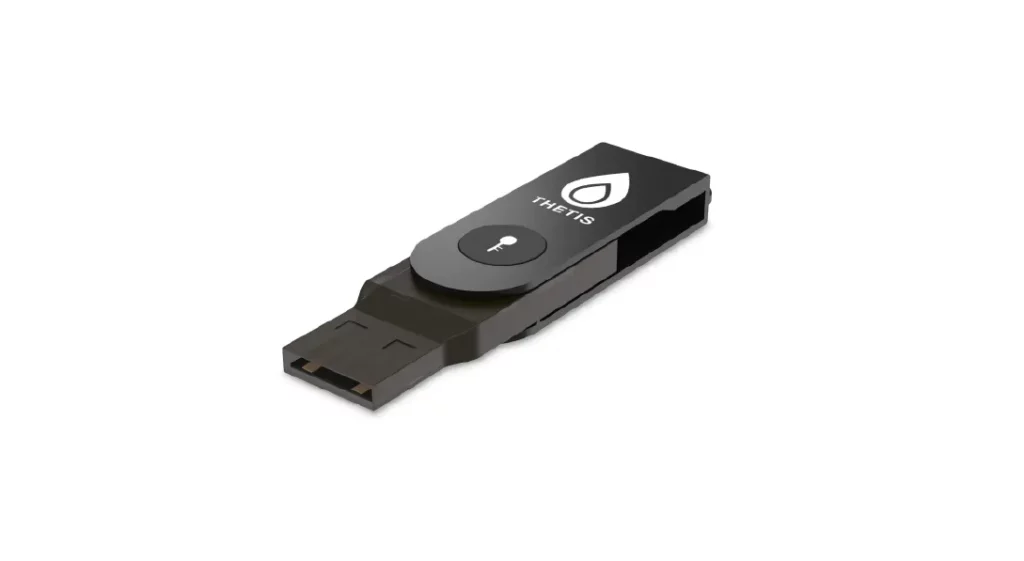 Thetis Universal security key is a great yubikey alternative for multi-factored authentication. It has built-in advanced HOTP (One-Time Password) technology that completes the unique multi-factored authentication process.
Thetis security key fits in a USB Type-A port and works with Chrome Browser on major operating systems like Windows, Linux and macOS. This is a FIDO2-certified key and is backwards compatible with U2F protocol. Therefore, it will work with any websites that follow basic U2F protocol.
As for the design, it has a compact foldable design with an aluminum alloy exterior to protect it from drops, scratches and other potential damages. Moreover, it includes an easy-click button, functioning-indicator light and you can easily put it on a keyring for easy portability.
If you want a budget-friendly hardware security key and a Yubikey alternative, then you can go with Thetis Security Key.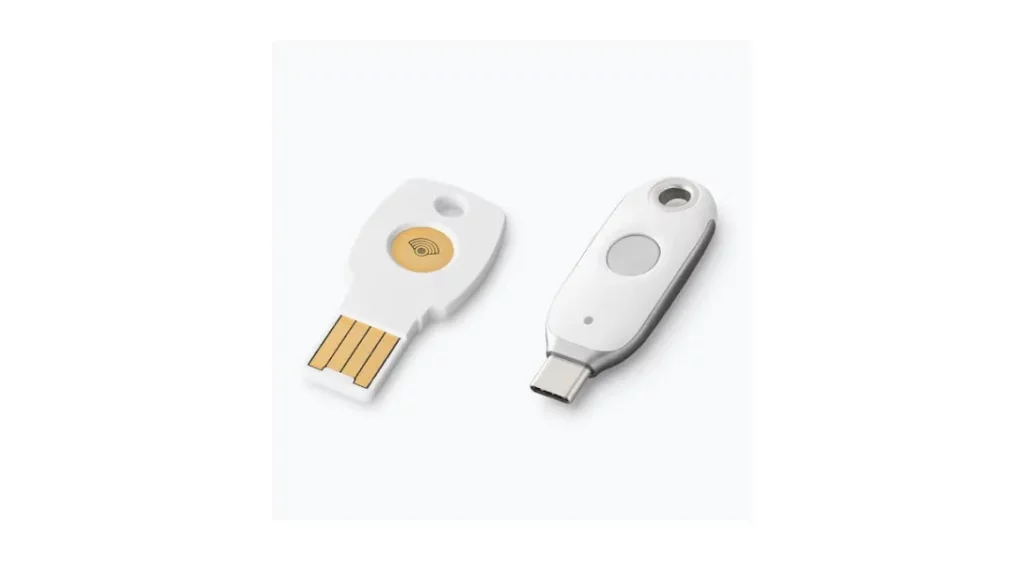 Another good Yubikey alternative is the Titan Security Key. This is a physical security key by Google. It comes in two variants – USB-A and USB-C. Both variants have NFC support and work with Android 9 and above without any hassle.
It is built on FIDO open standards, so you can use it with many apps and services that use the said protocol. Moreover, it is also compatible with the Advanced Protection Program which is currently Google's strongest security offering.
If you are looking for a security key to primarily use with Google apps and services, then there is no better recommendation than Google's physical security key.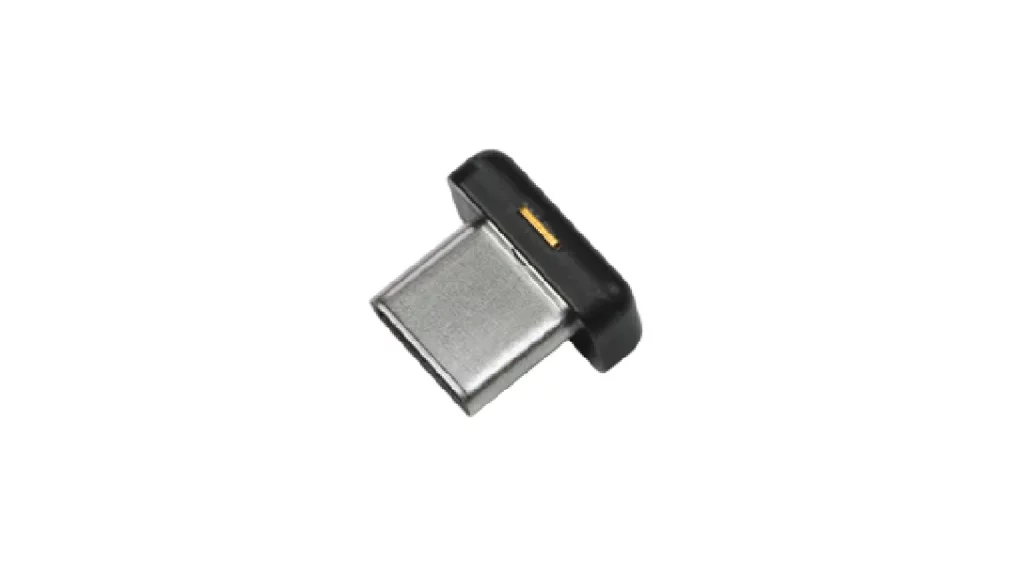 YubiKey 5C Nano is the smallest security key device on this list. It fits USB-C ports and works with any FIDO-compliant applications on Windows, Mac OS or Linux.
It also has multi-protocol support that includes FIDO2, FIDO U2F, Yubico OTP, OATH-TOTP, OATH-HOTP etc. providing you with strong hardware-based authentication.
YubiKey 5C Nano works great with Android and Laptop devices (with USB-C ports). Due to the extra compact size, you can leave the key attached to your laptop while on the move.
Note: If your laptop doesn't support USB-C, then you can go with the YubiKey 5 Nano [https://www.amazon.com/dp/B07HBDX2CM] (USB-A variant).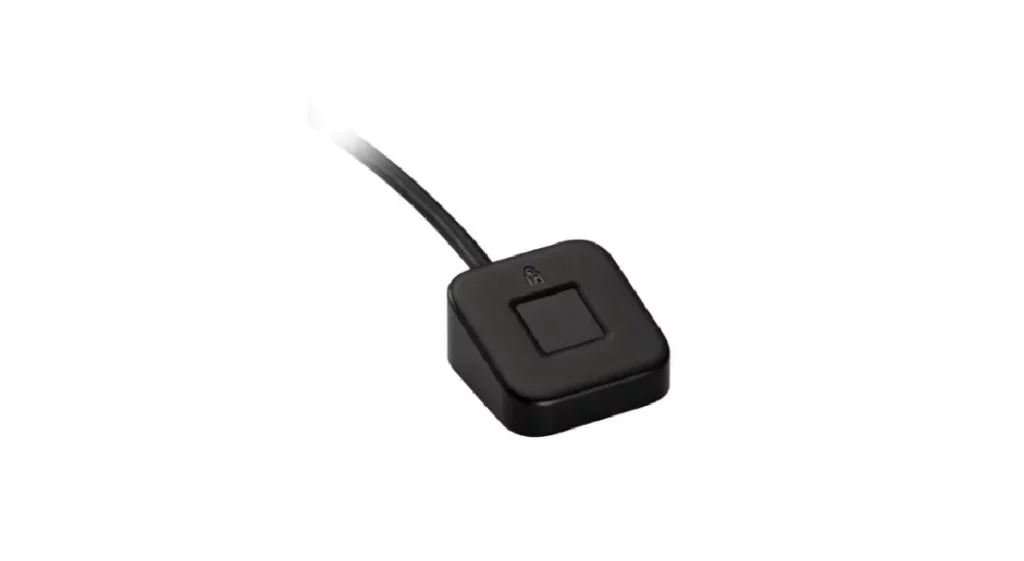 The last security key device on this list is the Kensington VeriMark. This hardware key is different from the ones mentioned previously.
Kensington VeriMark is a desktop fingerprint Key that is officially supported for Windows 7, 8.1 and 10 only. It is FIDO U2F certified and FIDO2 WebAuthn compatible that supports major browsers.
Apart from that, Kensington VeriMark is also compatible with Microsoft services including Office365, Azure, Outlook etc. Moreover, it is Windows Hello Certified and offers seamless integration with Windows Hello and Windows Hello for Business.
It ships with a long cable (1.2m) and supports up to 10 fingerprints. If you want a security key device to particularly use with Windows PC and Microsoft services, then Kensington VeriMark will be a good choice.
Frequently Asked Questions
What is a security key used for multifactor authentication (MFA)?
A security key is a physical device that adds an additional layer of security to the login process. It is typically a USB or NFC-enabled key that users can insert or tap to authenticate their identity. This key generates a unique cryptographic signature for each login attempt, making it difficult for unauthorized users to gain access to the account.
How does a security key work in multifactor authentication?
When using a security key for multifactor authentication, the login process involves something the user knows (like a password) and something they physically possess (the security key). After entering their username and password, the user inserts or taps the security key. The key then communicates with the service provider, verifying its authenticity and generating a unique code that completes the login process.
What are the advantages of using a security key for MFA?
– Enhanced Security: Security keys provide a strong defence against phishing attacks and other common authentication vulnerabilities.
– Convenience: They are easy to use, require no additional software or battery, and can be carried on a keychain.
– No Network Connectivity Required: Security keys operate offline, reducing the risk of remote attacks.
Can I use a security key for multiple accounts and services?
Yes, most security keys support multiple accounts and services. They can be used across various websites, applications, and platforms that support the FIDO standard. This means you can use the same security key for different services without compromising security.
Are security keys compatible with all devices and browsers?
Security keys are generally compatible with most modern devices and browsers. They work with computers, smartphones, and tablets, and they support major browsers like Chrome, Firefox, and Edge. However, older devices or browsers may not fully support security keys, so it's essential to check the compatibility before relying on them for MFA.
Can security keys be lost or replaced?
Yes, security keys can be lost, damaged, or stolen, just like any physical item. To ensure continued access, it's a good practice to have a backup security key and store it securely. If you lose your primary security key, you can typically use a backup key or set up alternative MFA methods like authenticator apps or SMS-based codes until you replace the lost key.
Conclusion
This concludes the list of the best physical security key. Setting up these keys are also very easy and straightforward.
As I mentioned before, it is recommended to have at least two keys – one that you use regularly and the other one as a backup in case your primary key is lost.
I have also made a list of the best USB fingerprint readers for PC that allows you to sign in to your Windows PC using without the need of entering long passwords or worrying about being snooped on when typing the password.
If you like this post, then follow Techsphinx on Facebook and Twitter for more reviews, tricks, tips and tutorials.
This article needs update or correction? Report the issue here so I can update it.