This post may contain affiliate links/ads and I may earn a small commission when you click on the links/ads at no additional cost to you. As an Amazon Affiliate, I earn from qualifying purchases. Techsphinx also participates in the StationX Affiliate program. You can read my full disclaimer here.
If you use Windows 10 or 11, then you can use Windows Hello to sign in to your PC. Windows Hello allows instant access to your Windows system by using a PIN, facial recognition or fingerprint. It is a more secure way to authenticate your devices, apps and online services.
Most desktops and laptops don't ship with a fingerprint scanner. However, there are many USB Fingerprint readers for PC available in the market that you can use with Windows Hello. All the fingerprint scanners mentioned in this post support Windows Hello.
Once you set up a fingerprint, you can sign in to your account in an instant. You don't have to remember long passwords or worry about prying eyes when typing the password.
Update (Jan 2023): Added Benss USB Fingerprint Reader.
Here's a summary of the best USB fingerprint readers for PC:
Best USB Fingerprint Readers For PC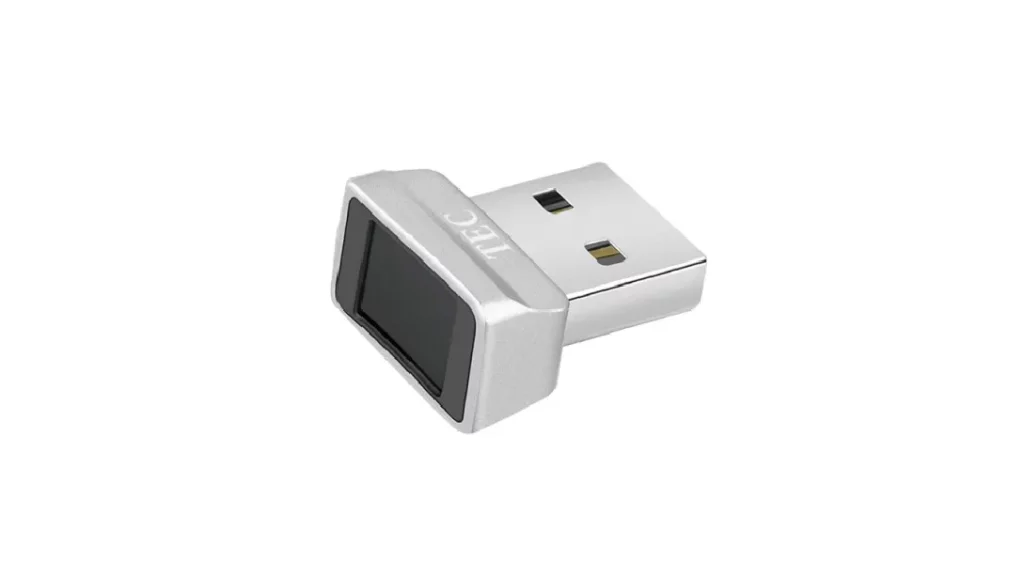 TEC Mini USB fingerprint reader is a small and affordable fingerprint reader. It is designed for Windows 10 and supports Windows Hello Authentication.
It fits in a USB-A port and has a Nano design for easy portability. Having a Nano design is great if you want it to use with Laptops. You can leave it plugged in while on the move.
This USB fingerprint scanner is fast and highly accurate. It also supports Multi-Fingerprint Registration. Therefore, you can register up to 10 fingerprints. Moreover, it has 360-degree fingerprint recognition, so you can just touch anywhere on the fingerprint sensor with the registered fingerprint to authenticate.
Apart from logging in to your computer, you can also use this fingerprint scanner for protecting valuable encrypted documents and folders by decrypting them through fingerprint.
Although TEC Mini officially supports Windows 10 OS only, it happens to work with Windows 11 without any hassle. It is also the cheapest USB fingerprint reader on this list.
If you want an affordable and portable USB fingerprint reader for your Windows PC, then the TEC Mini fingerprint sensor will be a great choice.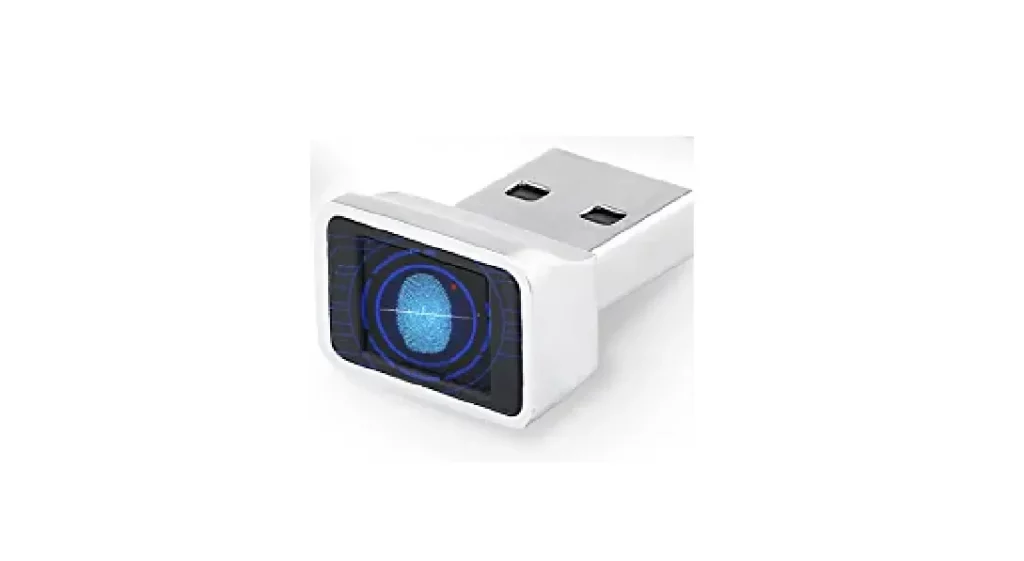 DDSKY Fingerprint Scanner supports WIN7/8/8.1/10 and above systems and works with Windows Hello.
Just like the previously mentioned fingerprint reader, this one also fits in a USB-A port and has a nano design, which makes it best suited to use with laptops. Also, you can register up to 10 fingerprints and protect important files using its "Smart ID Encryption" feature.
If you have proper windows updates installed, then this device might work out-of-the-box, otherwise, you have to spend a little time to set it up correctly.
The DDSKY fingerprint scanner has 360-degree recognition that makes it easy to authenticate without worrying about putting your finger in a specific angle. Although it occasionally fails to recognize fingerprints correctly, when it does, it can authenticate very quickly.
At this price range, this fingerprint reader is a good choice when it comes to fast Password-free sign-in and providing a secure way to unlock your Windows devices.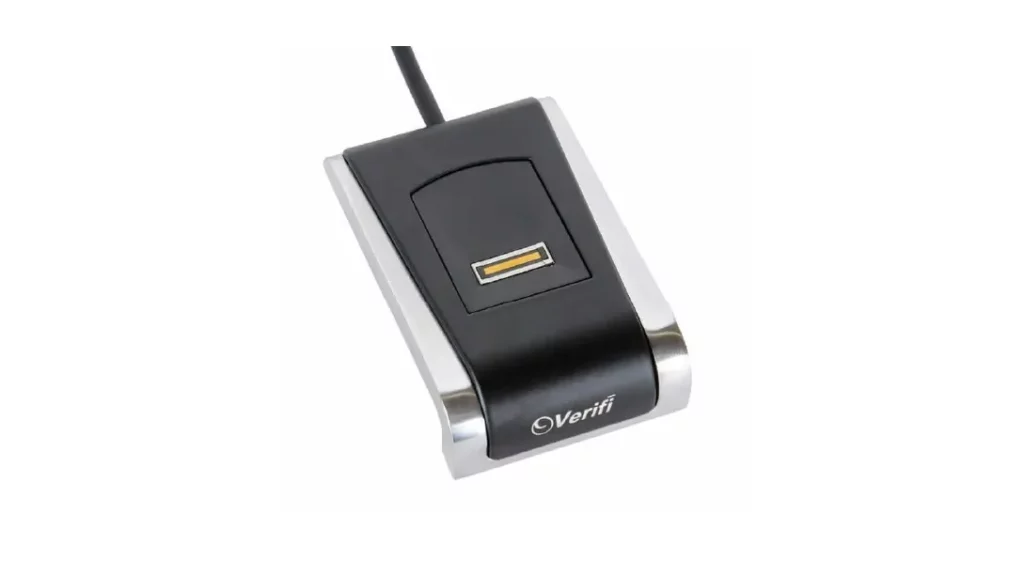 Verifi P2000 is a metal fingerprint reader that supports Windows 10 and Windows Hello. It ships with a solid aluminium housing and silicon fingerprint slide sensor.
You can use this fingerprint reader to biometrically identify users on a network or a single PC. It utilizes a high-definition pixel array sensor that has a "192 x 8" pixel sensing area.
To use the Verifi P2000 fingerprint reader, you have to install the drivers that are included with the scanner or you can download the drivers from the Verifi website.
Unlike the previously mentioned fingerprint readers, Verifi P2000 is equipped with a long cable, which makes it ideal to use with Desktop computers.
This one is a little costlier than other fingerprint readers on this list, however, if you are in the market for a quality USB fingerprint reader for your PC, then Verifi P2000 will be the optimum choice.
Benss USB fingerprint reader supports Windows 10 and is specifically designed to work with Windows 10 Hello features.
It fits in a USB-A port and has a compact design which makes it ideal to use with Laptops. The speedy 360-degree fingerprint recognition allows you to sign in to your windows quickly without having to worry about positioning your finger at a specific angle.
Apart from Windows login, it also supports File/Folder encryption. Moreover, Benss fingerprint reader also offers muti-fingerprint support that allows you to register up to 10 fingerprint IDs.
It should work out-of-the-box on Windows 10 with proper drivers installed, however, if it doesn't, then you may need to manually install the drivers. You can download the drivers from the Benss website.
If you just want a USB fingerprint reader to use for Windows login and that too at an affordable price, then Benss USB Fingerprint reader will be a good fit for your PC.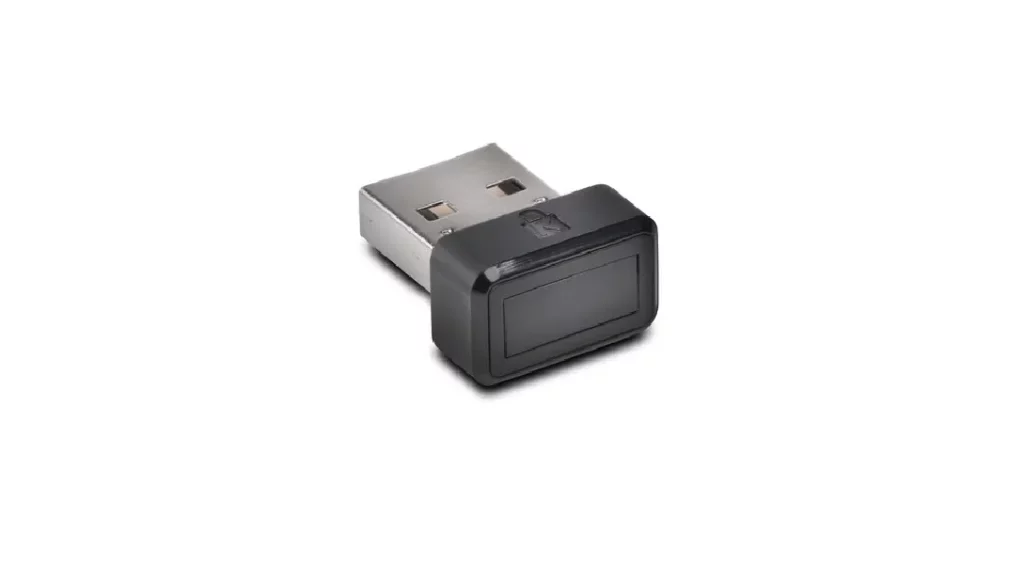 Kensington VeriMark USB fingerprint reader is a compact fingerprint scanner that not only supports Windows Hello but also FIDO universal 2-factor authentication. Therefore, you can use it for signing into your Windows computer as well as use it with websites like Google, Dropbox, GitHub and Facebook via the chrome browser.
As with other fingerprint readers for PC on this list, you can set up 10 different fingerprints, so multiple users can log in to the same computer.
It is also compatible with many password managers like Dashlane, LastPass (Premium), Keeper (Premium) and Roboform to allow the fingerprint to authenticate and automatically fill in usernames and passwords for websites.
Kensington VeriMark is compatible with Windows 7, 8, 10, and 11, however, you might need to install the latest drivers (which are available to download from the Kensington website) before you can use it on your computer.
This is a great USB fingerprint reader for PC that you can also use as a FIDO security key. You can also choose the desktop version of Kensington VeriMark if you are primarily going to use this fingerprint scanner with a desktop computer.
Frequently Asked Questions
What is a USB fingerprint reader?
A USB fingerprint reader is a biometric authentication device that allows users to access their computers or specific applications by scanning their fingerprints. It connects to the PC through a USB port and offers a convenient and secure way to replace traditional passwords.
How does a USB fingerprint reader work?
USB fingerprint readers capture and store an individual's unique fingerprint patterns. When the user places their finger on the reader, it scans the fingerprint and converts it into a digital template. The template is then matched against pre-registered fingerprints stored in the database, granting access if there is a match.
Can multiple users register their fingerprints on the same USB fingerprint reader?
In most cases, yes. Many modern USB fingerprint readers support multiple user registrations, allowing several individuals to use the same device for authentication. This feature is particularly useful in shared PC environments.
Do USB fingerprint readers work with all operating systems?
Generally, USB fingerprint readers are compatible with major operating systems such as Windows, macOS, and Linux. However, it's essential to check the product specifications and compatibility before purchasing to ensure it works with your specific operating system.
Can USB fingerprint readers be used for other purposes besides PC login?
Yes, USB fingerprint readers can have additional applications beyond PC login. Some readers support secure file encryption, password management and other biometrically protected tasks like digital signatures for documents or online transactions.
Do USB fingerprint readers require special drivers or software?
Most USB fingerprint readers come with the necessary drivers and software included in the package. However, it's recommended to check for the latest drivers and software updates on the manufacturer's website to ensure compatibility with your particular operating system.
Conclusion
This concludes the list of best fingerprint readers for PC. Through these fingerprint scanners, you will be able to sign in using Windows Hello on your desktop and laptop computers.
I have also made a list of the best hardware security keys for multifactor authentication to protect your online accounts.
If you like this post, then follow Techsphinx on Facebook and Twitter for more reviews, tricks, tips and tutorials.
This article needs update or correction? Report the issue here so I can update it.