This post may contain affiliate links/ads and I may earn a small commission when you click on the links/ads at no additional cost to you. As an Amazon Affiliate, I earn from qualifying purchases. Techsphinx also participates in the StationX Affiliate program. You can read my full disclaimer here.
Are you a tech enthusiast looking to explore the world of single board computers with a Linux twist? Whether you're a seasoned Linux user or just dipping your toes into the open-source ecosystem, you've come to the right place. In this list, I will show you some of the best Linux Single Board computers (SBCs) available in the market.
Linux SBCs have gained immense popularity in recent years, thanks to their versatility, affordability and the robust Linux operating system that powers them. These miniature computing wonders are a favourite among hobbyists, developers and professionals alike, offering a diverse range of applications, from home automation and IoT projects to web servers and multimedia centres.
Here, I'll not only showcase some of the top contenders in the realm of Linux-compatible SBCs but also delve into the key features that make them stand out. So, without further ado, let's discover the Linux SBC that will be your trusted companion in the fascinating world of single board computing.
Here's the summary of the best Linux Single Board Computers:
Best Linux SBC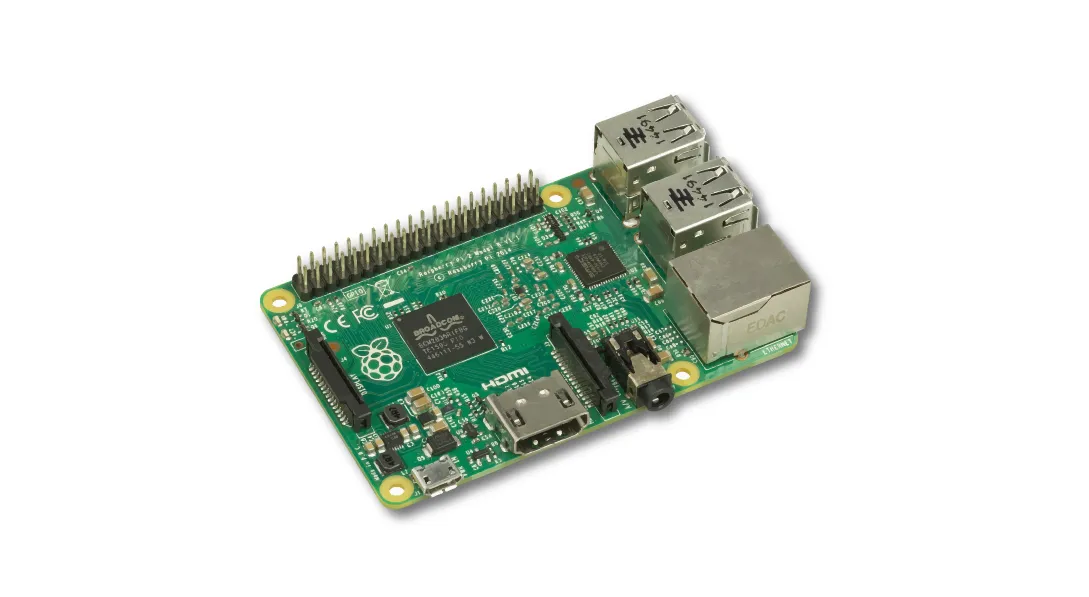 Raspberry Pi is the most popular Single Board Computer for Linux available in the market. This small credit-card sized computer originally started as a tool for teaching basic computer science in schools. However, because of its low-cost and portable design, Raspberry Pi is now widely used in many areas by computer and electronic hobbyists.
The latest Raspberry Pi 4 features a 1.8GHz quad-core Broadcom BCM2711 Chipset and ships with 1GB/2GB/4GB/8GB RAM variants. Apart from that it also has Gigabit ethernet, WiFi and Bluetooth.
As for ports, the Pi has two USB 2.0 ports, two USB 3.0 ports, two micro-HDMI ports that support 4k, a 2-lane MIPI DSI display port, a 2-lane MIPI CSI camera port, 4-pole stereo audio and composite video port and a Mirco-SD card slot for data storage and loading the operating system. A USB type-c port is also included that is used to power the Raspberry Pi and 40-pin GPIO header for your DIY projects.
The official distro for Raspberry Pi is the Raspberry Pi OS which is based on Debian. However, it is not the only distro available for Pi. You can install a variety of Linux distros such as Ubuntu, Manjaro, RetroPie, Kali Linux and much more.
Lastly, to increase the functionality of Pi, there are many different Raspberry Pi Accessories and HATs available. A hat is an add-on board that sits on top of the Pi to increase the functionality of the Pi.
For example, a PoE (Power over Ethernet) hat allows the Pi to be powered via a power-enabled Ethernet network. Another popular hat is the "sense hat" which provides the Pi with a wide array of sensing capabilities such as monitoring pressure, humidity, temperature etc.
All these above-mentioned features make Raspberry Pi the best Linux single board computer.
Features of Raspberry Pi:
1.8 GHz Broadcom BCM2711.
Quad-core Cortex-A72 (ARM v8) 64-bit SoC.
Available in multiple RAM variants (1GB-8GB).
Built-in WiFi and Bluetooth.
Supports two 4k resolution Displays.
40-pin GPIO header.
A wide range of HATs to use in a variety of projects.
LattePanda 3 Delta is a pocket-sized single board computer that is powered by an 11th Gen Intel Celeron N5105 CPU. This quad-core CPU has 4 threads with a base frequency of 2.00 GHz and a burst frequency of 2.90 GHz.
3 Delta is larger than the previously mentioned Raspberry Pi and unlike the Pi which is powered by an ARM chipset, LattePanda 3 Delta has a x86 architecture. It ships with 8 GB RAM and 64 GB eMMC storage along with and Gigabit ethernet port, WiFi 6 and Bluetooth 5.2.
Other ports on this SBC include two USB 3.2 Gen1 Type-A ports, one USB 3.2 Gen2 Type-A port, one USB Type C port that supports power delivery and display, one USB 2.0 Pin Header, one HDMI 2.0 and one display port that supports 4k resolution and one eDP port that support extendable touch display up to 1920×1080 resolution. It also has a Microphone & Headphone Combo Connector.
Apart from all this, LattePanda 3 Delta also has GPIO pins for DIY projects and expansion slots through which you can connect SATA SSD, NVME SSD, 4G/5G module and graphics card.
Since this SBC uses a Intel N5105 processor, you can download and install any 64-bit OS on it. Just like you can do it with any desktop PC or laptop. The LattePanda 3 Delta officially supports Windows 10, 11 and Ubuntu and you can find the documentation with installation instructions for the same on the LattePanda official website.
Although a costlier option than other SBCs mentioned here, if you want a powerful Intel-powered Linux Single board computer, then the LattePanda 3 Delta will be the best choice.
Features of LattePanda 3 Delta:
Intel Celeron N5105 CPU (4 cores/4 threads).
WiFi 6 and Bluetooth 5.2 are included.
Compatible with a wide variety of sensors.
Support Industry Standard Communication Protocol, like RS232, RS485, etc.
ATMEGA32U4 Co-processor.
Supports two 4k displays.
Expandable Single Board Computer.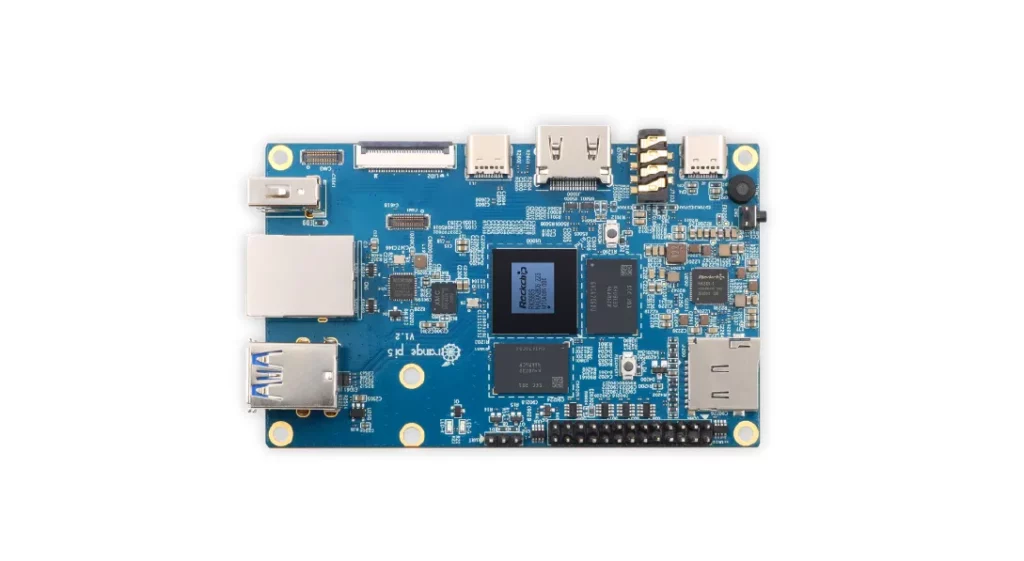 Orange Pi 5 is powered by an 8-core 64-bit Rockchip RK3588S processor and an Arm Mali-G610 MP4 "Odin" GPU. It is available in many RAM variants ranging from 4 GB to 32 GB.
You can either install the official Orange Pi OS (Droid or Arch) or install any compatible Linux distro of your choice such as Ubuntu or Debian on the Orange Pi 5.
Some other interesting features of this Linux SBC include one USB 3.0, one USB 2.0, one USB 3.1 Type-C port, one HDMI2.1 port that supports 8k resolution at 60Hz, one Micro-SD card slot and one 3.5mm headphone jack.
It also includes GPIO interfaces, MIPI CSI 4 lane and two MIPI D-PHY RX 4 Lane for the camera and M.2 M-KEY Socket for PCIe NVMe SSD or WiFi – Bluetooth module.
Note that, Orange Pi 5 has no WiFi or Bluetooth built-in. You will need to use a USB WiFi / Bluetooth dongle or M.2 wireless card to have these functionalities. However, if you use the M.2 slot, then you won't be able to connect the NVME storage. You can only use one at a time.
Therefore, if you want built-in WiFi and Bluetooth, the best option would be to go for the Orange Pi 5B model which also provides you with the option to choose between 32GB/64GB/128GB/256GB eMMC storage.
Apart from that, Orange Pi 5 is a powerful alternative as a Linux SBC to the Raspberry Pi 4.
Features of Orange Pi 5:
Rockchip RK3588S 8-core 64-bit Processor.
Available in many RAM variants (4GB – 32GB).
ARM Mali-G610 MP4 "Odin" GPU.
Supports 8k Display Resolutions.
M.2 Key socket for PCIe NVME SSD or WiFi – Bluetooth Module. (No Built-in WiFi or Bluetooth).
Small and powerful Linux SBC.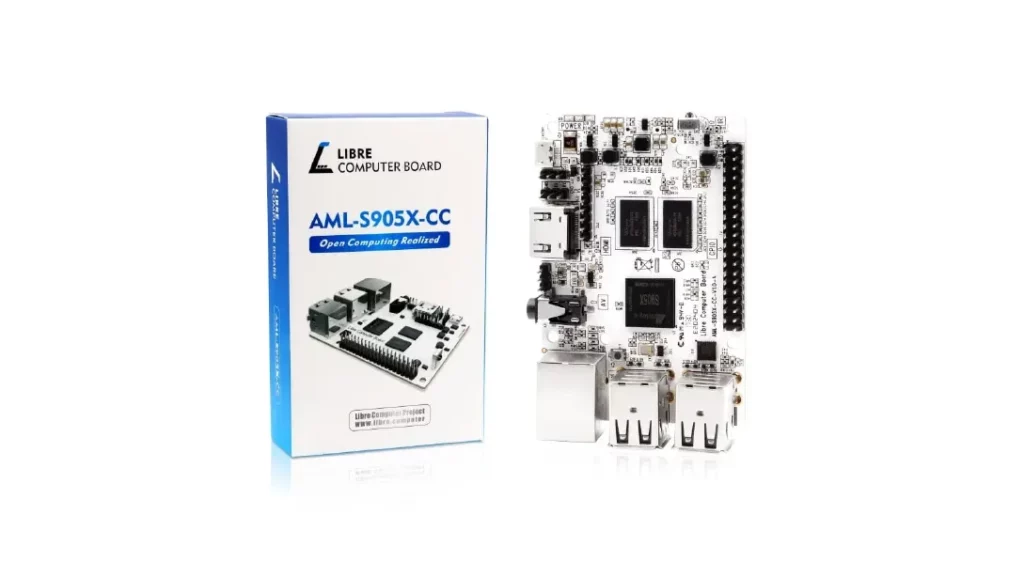 Libre Computer Board AML-S905X-CC (Le Potato) is a small form factor Linux SBC available in 1GB/2GB RAM variants. It ships with a quad-core 64-bit Amlogic S905x ARMv8 CPU and Penta-Core ARM Mali-450 MP3 GPU.
The specs of Le Potato include four USB 2.0 Type-A ports, an HDMI 2.0 port, a 3.5mm TRRS AV Jack, an Ethernet Port, an IR Receiver, a Micro-SD card slot and much more. It also includes GPIO, Audio and UART headers along with a U-Boot Button and a MicroUSB Power Input.
As for the operating systems, Le Potato supports a wide range of Linux distros like Ubuntu, Debian, Raspbian, Armbian etc. It also supports Android 9.0, LibreELEC or CoreELEC for Kodi, Lakka and Batocera for Retro gaming.
You can download the compatible versions of the above-mentioned OS from the Libre computer official website.
Although Le Potato is a cheap Linux SBC and an alternative to Raspberry Pi 4, it doesn't have Wireless connectivity (WiFi, Bluetooth). It's only suitable for projects with a wired ethernet connection.
If you are in the market for a cheap Linux single board computer, then give Le Potato a try.
Features of Le Potato:
Amlogic S905x SoC (Quad-Core, 64-bit).
ARM Mali-450 MP3 GPU.
Available in 1GB and 2GB RAM variants.
Form Factor and GPIO Compatibility with Raspberry Pi 3.
Great for small DIY projects.
Frequently Asked Questions
What is a Linux compatible single board computer (SBC)?
An SBC is a complete computer built on a single circuit board. It typically includes a CPU, RAM, storage, input/output ports and runs a Linux-based operating system. These compact devices are popular for embedded systems, DIY projects, and educational purposes.
Which Linux distributions are compatible with SBCs?
Several Linux distributions are compatible with SBCs, including Raspberry Pi OS, Ubuntu, Debian and Arch Linux. The choice of distribution depends on the SBC model and your specific project requirements.
Can I use SBCs for server applications?
Yes, many SBCs are suitable for lightweight server tasks like web hosting, file storage, or running a home media server. However, their performance may be limited compared to traditional servers, so it's essential to choose the right SBC for your specific server needs. A Mini PC for Server will be a more suitable option.
How do I power and connect peripherals to an SBC?
SBCs are powered using micro-USB, USB-C, or other power connectors. Peripherals like monitors, keyboards, and mice can typically be connected via USB ports or HDMI. Some SBCs also have built-in WiFi and Bluetooth to connect wireless devices and GPIO pins for connecting sensors and other components.
Are there any cooling considerations for SBCs?
Yes, cooling can be essential for SBCs, especially when running resource-intensive tasks. You can use heat sinks, fans, or even dedicated cases with built-in cooling solutions to prevent overheating and ensure stable performance.
Conclusion
The world of Linux Single Board Computers offers a myriad of choices, each with its unique set of features and capabilities. Whether you're a hobbyist looking for a budget-friendly option or a professional seeking high-performance computing, there's an SBC out there for you.
We've explored some of the top contenders available in the market including the ever-popular Raspberry Pi series. Each of these SBCs has its strengths and the right choice will depend on your specific requirements.
These compact and capable devices can power a wide range of projects, from home automation and IoT applications to multimedia centres. Remember to consider factors like performance, hardware specifications, community support, and software compatibility when making your decision.
If you like this post, then follow Techsphinx on Facebook and Twitter for more reviews, tricks, tips and tutorials.
This article needs update or correction? Report the issue here so I can update it.