This post may contain affiliate links/ads and I may earn a small commission when you click on the links/ads at no additional cost to you. As an Amazon Affiliate, I earn from qualifying purchases. Techsphinx also participates in the StationX Affiliate program. You can read my full disclaimer here.
Linux is customizable, we all already know that, and among one of such customizations is the choice of desktop environments.
There are many desktop environments available out there offering distinct features and customizations.
KDE is one of the most popular desktop environment for Linux based operating systems. It offers users an easy-to-use and butter-smooth Graphical User Interface (GUI) with various options to customize your desktop to your heart's content.
When you install Ubuntu, by default you get GNOME desktop environment (from 17.10 version onwards). But today I am going to show you how to install KDE on Ubuntu.
KDE vs KDE Plasma
You may hear these two terms a lot, KDE and KDE plasma. Are these two different or refer to the same thing?
Let me clear that confusion for you.
KDE was founded in 1996. Initially, they only had a desktop environment known as "K – Desktop Environment" (KDE for short). So, many people start using their desktop environment with the name of KDE.
Eventually, KDE grew from being just a desktop environment. They created many apps and even created their own distro known as KDE Neon based on Ubuntu.
The desktop environment is now renamed to KDE plasma. Many people who are using the KDE desktop environment for years, still refer to it as KDE but officially its Plasma.
Features of KDE Desktop Environment
KDE desktop offers various features and customizations. It's hard to mention all of them in this post. So, I am only mentioning some distinct features (and the features I like).
Best Customization: Icons, widgets, fonts, pointers, the window decorations, color schemes, themes, desktop layout and much more options are available to customize your desktop to your heart's content. Not only that, but plasma also offers customization of multiple monitors differently.
Krunner: It is a launcher built into KDE plasma-desktop. But this launcher is on steroids. Krunner can do many things other than running apps. It can kill apps, open folders and files, issue shell commands, do calculations and conversions, open websites, search your kmail, play music and much more.
Session management: KDE comes with an option to save an entire working session and retain it after boot. It also has an auto-start feature, that helps you to run any scripts or apps during system startup.
Keyboard Customization: In KDE the desktop is not the only thing you can customize; you can even customize the keyboard. You can remap the keys, switch layouts etc. Just visit the advanced section of the keyboard settings.
Emoji Picker: With Plasma 5.18 and later, you get an in-built emoji picker. You can choose and copy emojis with just a few clicks and there are hundreds of emojis to pick up from.
There are many other interesting features of the KDE desktop, but let's focus on how to install KDE on Ubuntu.
Pre-Requisites to Install KDE on Ubuntu
Ubuntu installed and running. (I am using Ubuntu 20.04)
A stable internet connection to download KDE packages.
Sudo privileges.
Install KDE Desktop Environment on Ubuntu
Before installing KDE on Ubuntu, you should know that there are different versions of KDE available. You can choose any version according to your need.
Now, let's see what are these available options and how to install them.
1. KDE Full
As the name suggests, KDE full version provides a complete package with all the apps and core packages. This will give you a full KDE experience.
Since it contains all the good stuff KDE has to offer, this package has a download size of approx. 1 GB and will take time to install.
If you want to install this version, then do it with the following command:
sudo apt install kde-full
2. KDE Standard
One of the problems with the KDE full package is it ships with all the apps. Some of those apps you may not need or may never use.
Standard version only ships with necessary set of apps provided by KDE like a text editor (Kate), a web browser (Konqueror), File Manager (Dolphin), Download Manager (Kget), an email client (KMail) etc.
It is much smaller in size compared to full version (approx. 300 MB).
If you want to go with the standard version, then run the following command:
sudo apt install kde-standard
3. KDE Plasma Desktop
At the beginning of the post, I have mentioned the difference between KDE and KDE plasma.
This version will install only the plasma-desktop offered by KDE. This is the minimal version without any apps. You have to manually install any KDE apps you want.
The size of this version is approx. 170 MB and you can install it using the following command:
sudo apt install kde-plasma-desktop
Proceed Installation
No matter which version you choose to install KDE on Ubuntu. You'll be greeted with the option to set a default display manager, before proceeding further.
Here, you have to select a default display manager for Ubuntu. If you want to use KDE's display manager, then choose SDDM (Simple Desktop Display Manager).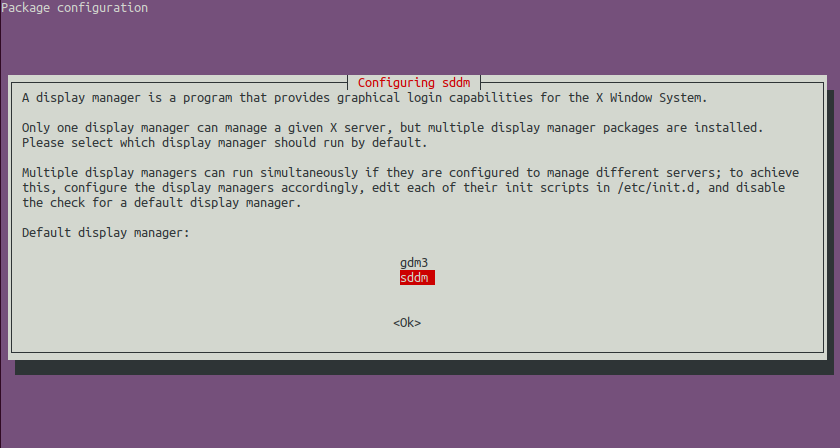 After setting the default display manager, the installation will proceed. Wait patiently for the installation to complete, the time it takes will depend on the version you selected.
Once, the installation is complete, reboot the system. If everything has gone right, then you will be greeted with the plasma-desktop login screen.
Login to the system to see the KDE Desktop. Now, you can start customizing your desktop environment however you like.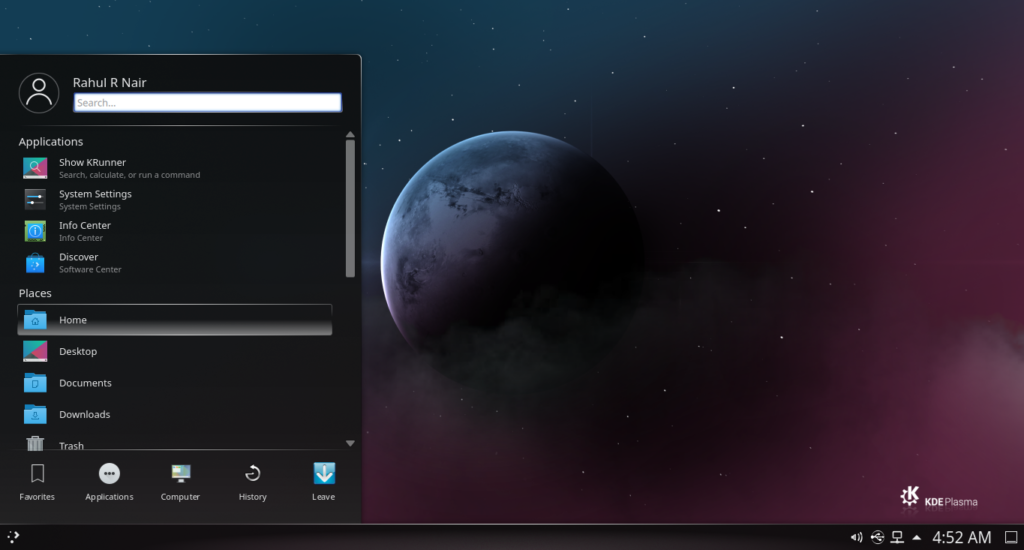 The old GDM3 is still installed on your system. If you ever want to use that, then choose "Ubuntu on Wayland" option on the login screen.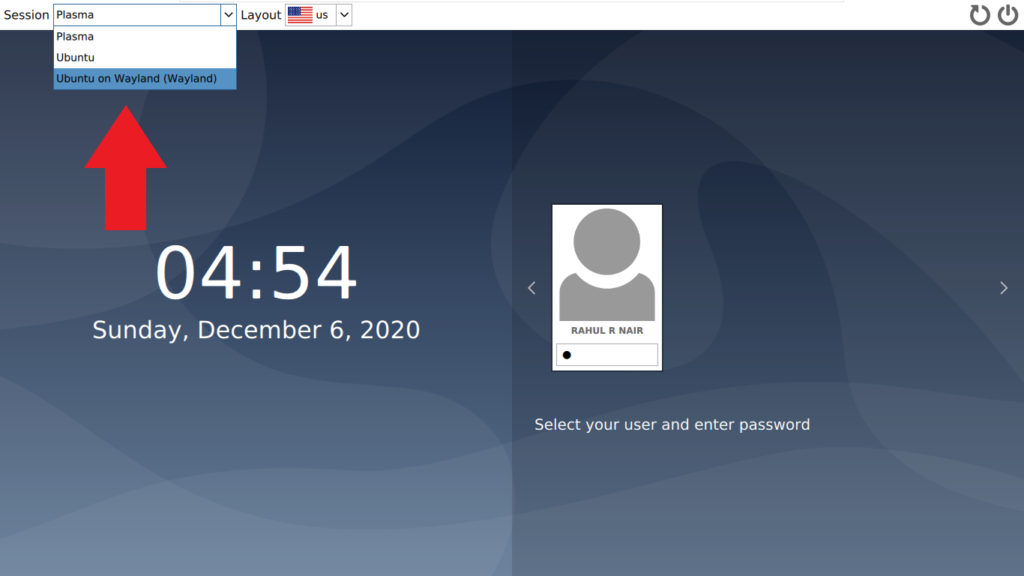 Uninstall KDE Desktop Environment on Ubuntu
Now, if you didn't like KDE or want to remove this environment for any reason then follow these steps to uninstall KDE on Ubuntu:
1. Remove the KDE package you installed.
sudo apt --purge remove kde-standard
Replace kde-standard with the version of kde you installed.
2. Remove the dependencies.
sudo apt autoremove
3. Reboot the system
reboot
Note: Some of the apps installed while installing KDE package shall have to be removed manually. Apps like (Konsole, Konqueror etc.)
After rebooting, if you're greeted with a CLI login screen then don't panic.
This is because you had set SDDM as default display manager and now you removed it. So, let's set gdm3 as default.
1. Login using the username and password.
2. Start the gdm3 service:
sudo systemctl restart gdm3
Now, your GUI should be back again.
3. Set gdm3 as default.
sudo dpkg-reconfigure gdm3
4. Reboot the system and check if everything is working properly.
Conclusion
I hope this guide helped you to install and set up KDE desktop environment on your Ubuntu system.
There is also an official flavour of Ubuntu which ships with KDE desktop environment instead of GNOME desktop environment. It is known as Kubuntu.
Kubuntu uses the same underlying systems as Ubuntu.
If you've fallen in love with KDE desktop and ever plan to re-install the OS, then go for Kubuntu instead of Ubuntu.
Everyone has their own preferences in terms of customizations. So, what is your favourite desktop environment?
You can tell me in the comments.
If you like this post, then follow Techsphinx on Facebook and Twitter for more reviews, tricks, tips and tutorials.
This article needs update or correction? Report the issue here so I can update it.