This post may contain affiliate links/ads and I may earn a small commission when you click on the links/ads at no additional cost to you. As an Amazon Affiliate, I earn from qualifying purchases. Techsphinx also participates in the StationX Affiliate program. You can read my full disclaimer here.
A Raspberry Pi starter kit will be extremely useful if you're a beginner. The kit includes all the necessary items that can help you get started with Raspberry Pi projects.
Raspberry Pi can be used for various projects like IoT, robotics, machine learning etc. I have mentioned different types of Raspberry Pi Starter Kits in this list so that you can choose the right one according to your needs.
Here's the summary of the best Raspberry Pi Starter Kits for beginners:
Before you proceed
I would like you to keep the following things in mind before you proceed:
1. Do your research or check the manufacturer's website for an updated list regarding the contents and number of items in the kit. (Also, make sure to check if Raspberry Pi board is included or not before purchasing)
2. This list is not in any ranking order. Buy the kit according to your learning or project requirement.
5 Best Raspberry Pi Starter Kit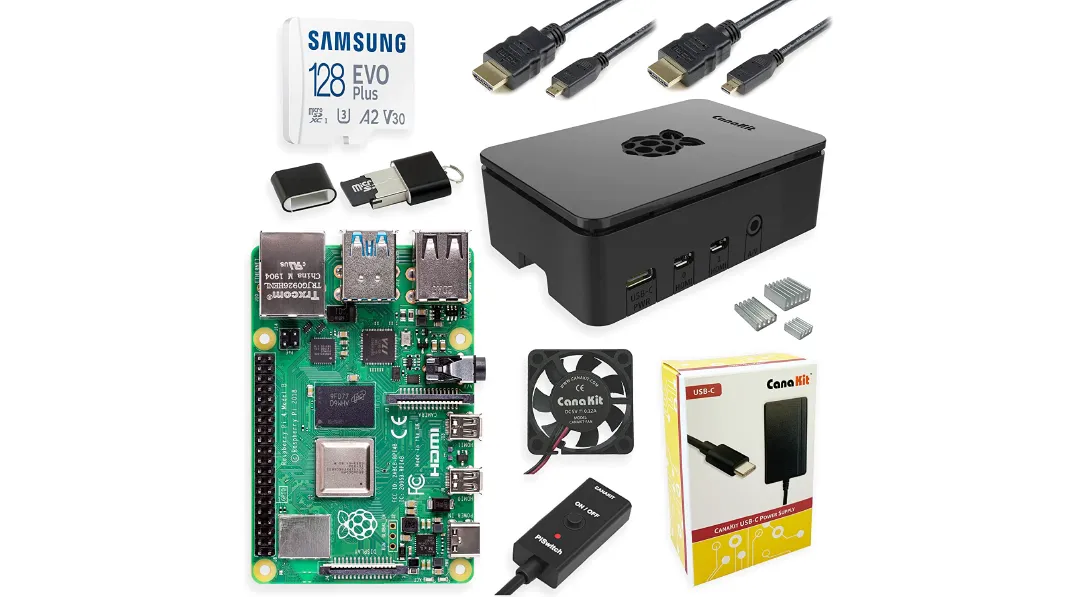 The first on this best Raspberry Pi starter kit list is the CanaKit Raspberry Pi 4 Extreme Kit. It has everything that you need to get started with the Raspberry Pi.
Moreover, the Micro SD card is pre-loaded with the NOOBS for your ease. Apart from all the required things, the kit includes a case with a fan mount, a fan, a set of heat sinks, a card reader, a quick start guide and a GPIO reference card.
Also, the included PiSwitch allows you to turn Raspberry Pi On/Off without the need of unplugging it from the power socket.
This is overall the best basic starter kit for Raspberry Pi 4 available in the market.
Contents of CanaKit Raspberry Pi 4 Extreme Kit:
Raspberry Pi 4 Model B
128GB Samsung EVO+ Micro SD Card (Class 10) Pre-loaded with NOOBS
CanaKit Premium High-Gloss Raspberry Pi 4 Case with Integrated Fan Mount
CanaKit Low Noise Bearing System Fan
Set of 2 Micro HDMI to HDMI Cables – 6 foot (Supports up to 4K 60p)
CanaKit 3.5A USB-C Raspberry Pi 4 Power Supply with Noise Filter
CanaKit USB-C PiSwitch (On/Off Power Switch for Raspberry Pi 4)
Set of Heat Sinks
USB MicroSD Card Reader
CanaKit Quick-Start Guide
CanaKit GPIO Reference Card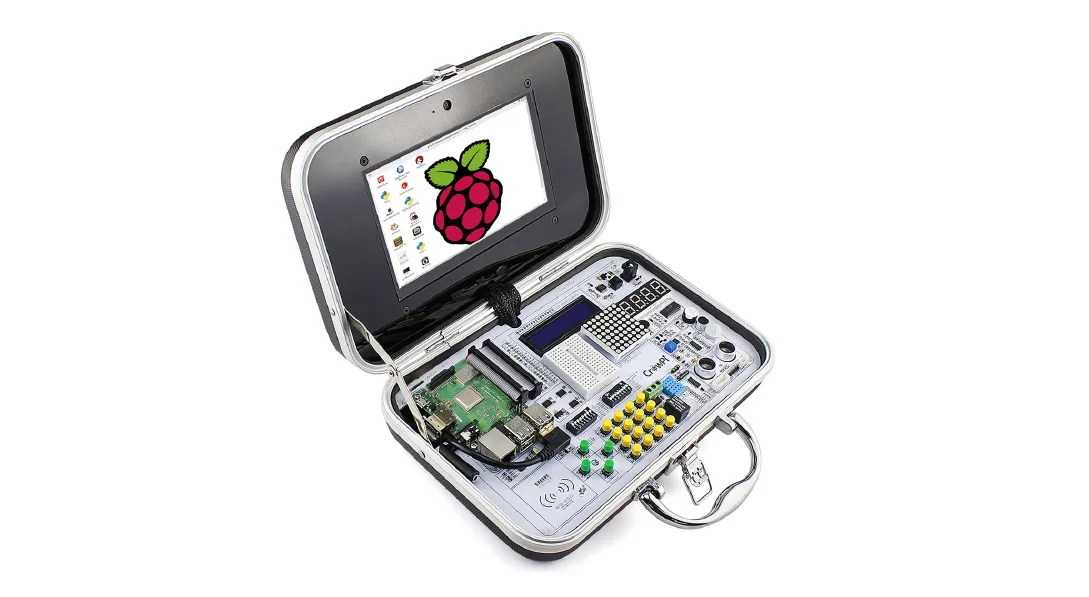 ELECROW Crowpi Raspberry Pi is a great kit to learn computer science, programming and electronics.
It comes with various components needed for electronics like sensors, buttons, NFC module, breadboard etc. Moreover, every component included in this kit is packed in a stylish and portable suitcase.
The Crowpi kit also has a 7-inch HDMI Touch Screen Display, so you don't need to purchase an additional display. The advanced version of the Crowpi kit also includes a wireless keyboard and mouse, game controllers and many more items that are not included in the "basic version" of the Crowpi kit.
This kit is designed as an educational tool, therefore it is ideal for beginners and students. Also, you can find great tutorials for many cool projects on the ELECROW website.
Contents of ELECROW Crowpi Raspberry Pi:
Raspberry Pi (Only if you choose to buy the Raspberry Pi with the kit)
Abs Plastic Case (all below items are placed inside this case)
Camera
7-inch HDMI Touch Screen
Power Circuit
LCD Module
Segment LED
Vibration Motor
LED Matrix
Light, Sound, PIR Motion, Tilt, IR, Ultrasonic, Touch, Temperature and Humidity Sensors
Buzzer
Servo and Stepper Motor interface
UART
Relay
Independent Buttons and Buttons Array
NFC Module
Switches
Breadboard
GPIO LED indicator
Acrylic board
Microphone
Wireless Keyboard and Mouse
Earphone
RFID CARD
32G TF Card
HDMI Connector
Game Controllers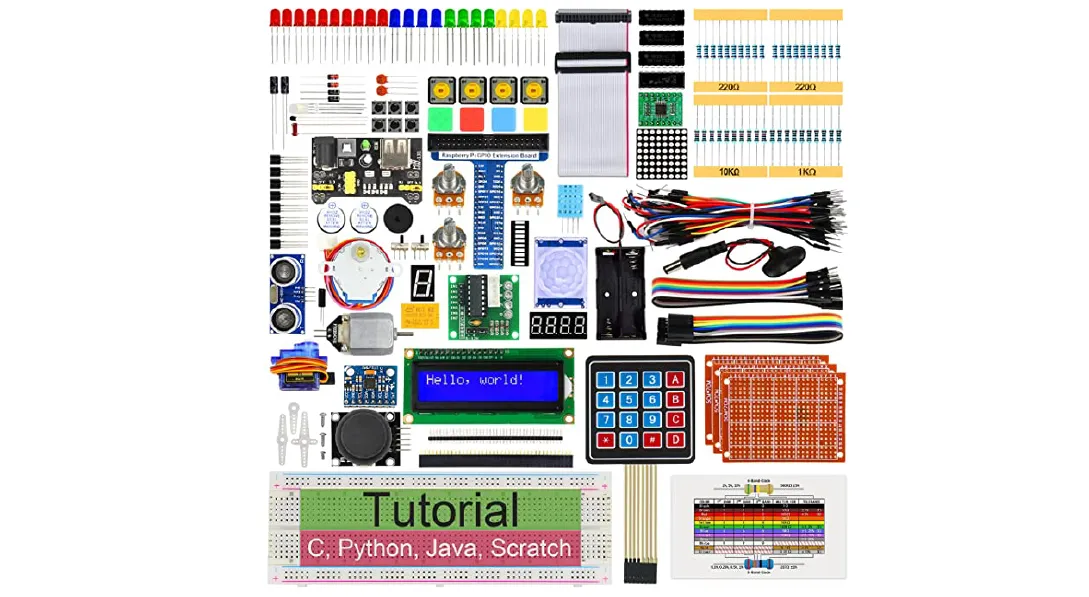 Freenove Ultimate Starter kit contains all the common accessories that you'll require for creating various electronics projects using your Raspberry Pi.
Moreover, you can download the detailed tutorials (.pdf file) from the download link provided on the product box. The guide contains many interesting projects that are explained with circuit diagrams.
Whether you want to learn electronics using Raspberry Pi or want to create some cool projects, having an electronic kit that contains all the basic components can be really handy.
Note: Freenove Ultimate Starter Kit does not include Raspberry Pi board, HDMI cables, Raspberry Pi Power Supply, SD card etc. You have to purchase those separately. You can go with the CanaKit Raspberry Pi 4 Extreme Kit for the same.
Contents of Freenove Ultimate Starter Kit:
LEDs.
Single and 4-digit 7 Segment Display
LED Matrix
Resistors
Potentiometer
Capacitors.
Push-button, big push button and Push-button caps
Switch
Keypad
Diodes
Transistors
2x AA Battery holder and 9V Battery Cable.
Breadboard Power Module
L293d and 74HC595
ADC Module
Active and Passive Buzzer
DHT-11
Thermistor and Photoresistor
Relay
Motor, servo, stepping motor and stepping motor driver
Joystick
Infrared Motion Sensor
Ultrasonic Ranging Module
MPU 6050 Module.
I2C LCD 1602
GPIO Extension Board and 40-pin GPIO Cable
General Board, Breadboard and Jumper Wires
40-Pin Header and Female 40-Pin Header
Resistor Color Code Card and Plastic Box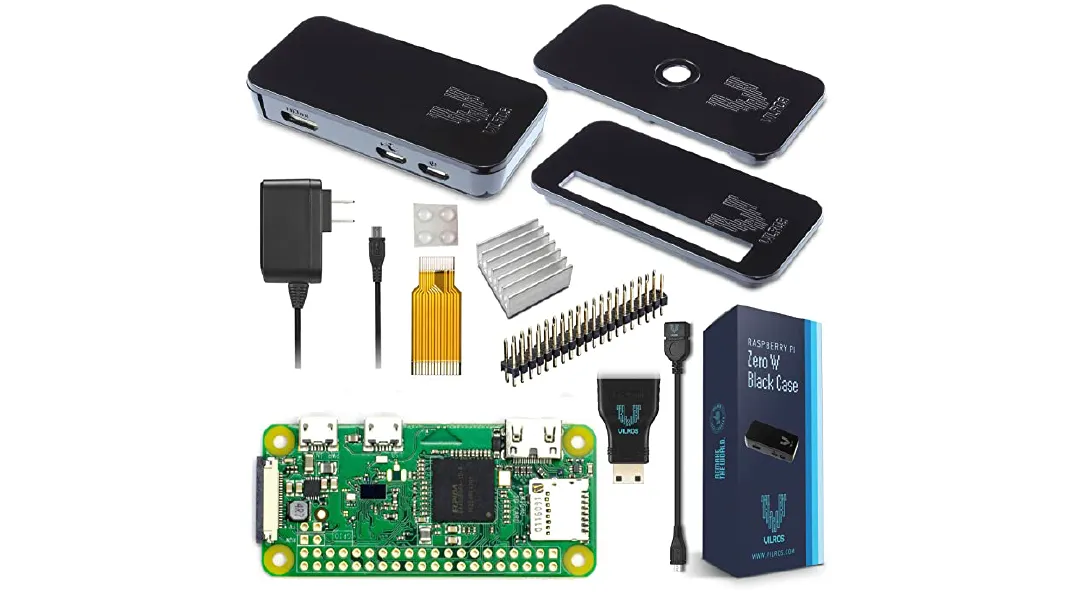 Raspberry Pi Zero is almost half the size and is much cheaper compared to the Raspberry Pi board. The Raspberry Pi Zero W (Wireless) has all the functionality of the original Pi Zero but also has added WiFi and Bluetooth technology. This tiny Raspberry Pi is affordable enough for any project.
Vilros Raspberry Pi Zero W Basic Starter Kit includes a Raspberry Pi Zero W (Wireless) Board along with other accessories – A snap-together case with 3 covers, a camera module adapter, Power Supply for the Pi Zero, USB OTG cable, Mini HDMI adapter and a Double-Pin GPIO Header.
Although it includes a mini HDMI adapter, you still need a standard HDMI cable which is not included in the kit. Also, the kit is lacking a Micro SD card which is an essential item to boot the Raspberry Pi zero. You'll need to buy those 2 items separately.
Contents of Vilros Raspberry Pi Zero W Basic Starter Kit:
Raspberry Pi Zero W (Wireless) Board.
Raspberry Pi Zero Case
2.5A Micro USB Power Supply with Noise Filter
Camera Module Adapter
Micro USB OTG Cable
Mini HDMI Adapter
Double-Pin GPIO Header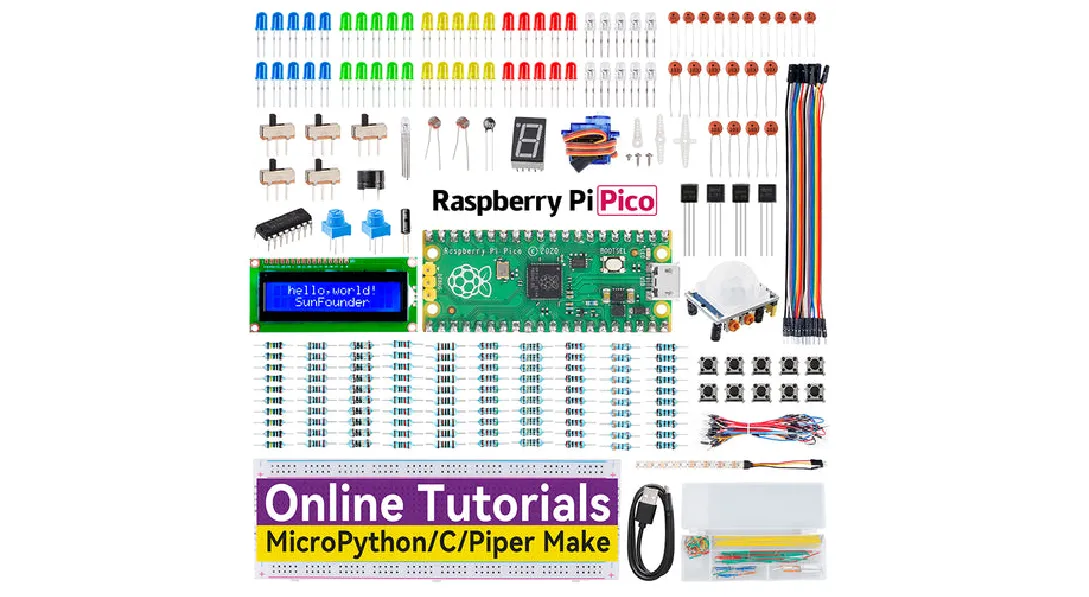 Raspberry Pi Pico is a tiny, fast, and versatile microcontroller board built using RP2040. It is pretty cheap and can be used by anyone to learn coding and electronics.
It has GPIO Pins that can be used to control and receive input from a variety of electronic devices. You can easily program the Raspberry Pi Pico using C/C++ and MicroPython.
The SunFounder Raspberry Pi Pico Basic Starter Kit contains all the necessary items to get started with the Raspberry Pi Pico including the Pi Pico board.
If you want to learn embedded programming, electronics and create various projects with Raspberry Pi Pico, then this kit is a one-stop solution for your needs.
Beginners Note: Raspberry Pi Pico is a microcontroller (like Arduino) and not a computer like Raspberry Pi 4. So, you'll need another computer (Linux, Windows, Mac) to program the board.
Contents of SunFounder Raspberry Pi Pico Basic Starter Kit:
Raspberry Pi Pico Board
I2C LCD 1602
WS2812 RGB 8 LED Strip
7-Segment Display
Slide Switch
Active and Passive Buzzer
9G Servo
PIR Motion sensor
LEDs.
Resistors.
40-Pin Header
Transistors
Capacitors
Tilt Switch
Push Button
74HC595
Potentiometer
Thermistor and Photoresistor
Micro USB cable
Breadboard, jumper wires, Dupont wires, jumper wire box.
Conclusion
There are many other starter kits available for Raspberry Pi. If you have used any other starter kit, you can share your experience in the comments.
Raspberry Pi can be used for a variety of projects. There are other Raspberry Pi kits available on the market. You can check the below-mentioned links for the same.
Also, you can check out my other articles related to Raspberry Pi here.
If you like this post, then follow Techsphinx on Facebook and Twitter for more reviews, tricks, tips and tutorials.
This article needs update or correction? Report the issue here so I can update it.