This post may contain affiliate links/ads and I may earn a small commission when you click on the links/ads at no additional cost to you. As an Amazon Affiliate, I earn from qualifying purchases. Techsphinx also participates in the StationX Affiliate program. You can read my full disclaimer here.
This tutorial will show you how to setup Bluetooth and Blueman Bluetooth manager on Ubuntu.
Peripherals like mouse, keyboard, headsets, speakers etc. nowadays use Bluetooth feature to provide a wireless experience.
If you want to connect these devices to your Ubuntu system, then you'll need to set up Bluetooth and a Bluetooth manager. The newer versions of Ubuntu already have Bluetooth set up. So, the only thing you'll need is a Bluetooth manager that can help you to use the Bluetooth feature efficiently.
Blueman can help you to:
Connect to the network via dial-up.
Connect to audio devices.
Send / Receive files via OBEX.
Connect to / Create Bluetooth networks.
Connect to input devices.
Pair with devices.
Pre-requisites to install Blueman on Ubuntu
Ubuntu Installed and Running.
Active Internet Connection to download Blueman.
Sudo Privileges.
Inbuilt or External Bluetooth Adapter.
(You can check my Bluetooth adapters for Linux post, if you need help finding a Linux compatible Bluetooth adapter.)
How to Install Bluez on Ubuntu?
If Bluetooth is not already set up on your system, then first install BlueZ.
BlueZ is the official Linux Bluetooth stack that provides support for the core Bluetooth layers and protocols. It also contains the driver stack for Bluetooth adapters as well as utilities for the CLI administration of Bluetooth.
You can read more about blueZ and its features on BlueZ upstream homepage.
Before installing BlueZ, it's recommended to update the software repositories.
sudo apt update
Now, install BlueZ using the command:
sudo apt install bluez bluez-tools
Once BlueZ is installed you can proceed with the installation of Blueman.
How to Install Blueman on Ubuntu?
You can install Blueman on Ubuntu by two methods:
Using the Ubuntu Software Center (Graphical method)
Using terminal
First, let's see the graphical method.
Install Blueman on Ubuntu graphically
Blueman is available in the Ubuntu software center.
1. Start the Ubuntu Software center.
2. Search for Blueman. Click on the "Blueman Bluetooth Manager" result.

3. Click on Install and provide authentication to install Blueman.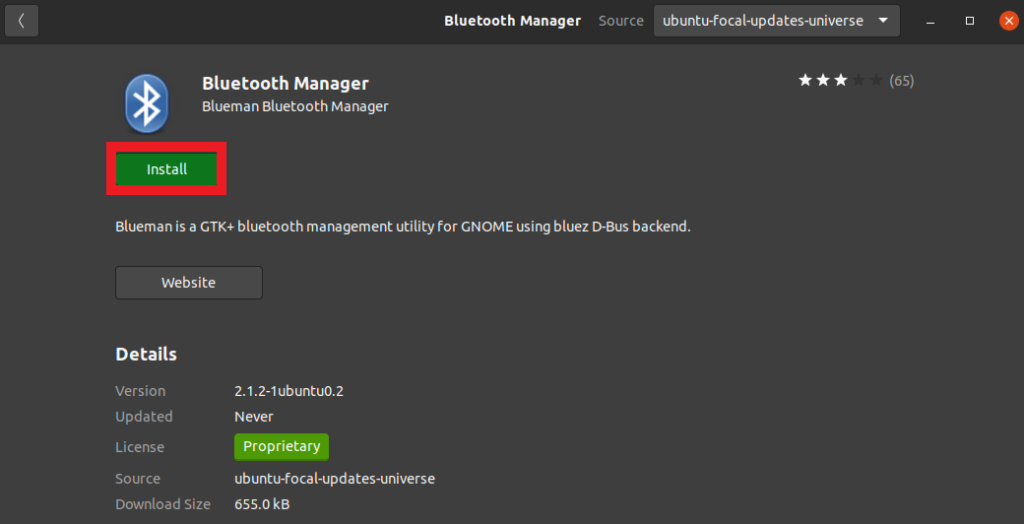 4. Once installation is finished, you'll see the option to remove.
5. Start Blueman via the applications menu.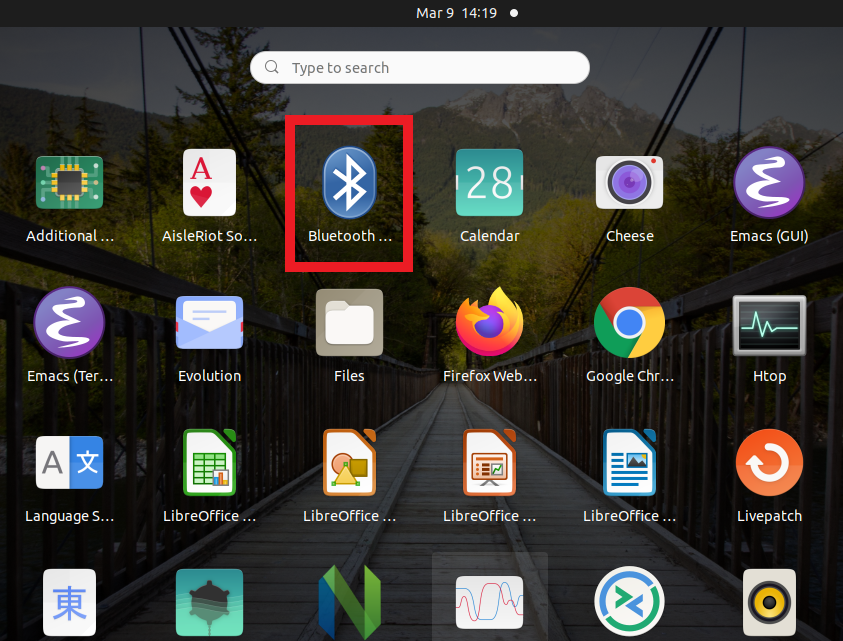 Install Blueman on Ubuntu via terminal
Blueman is available in the Ubuntu Universe repository so you can install it easily using the apt command.
To install Blueman on Ubuntu run:
sudo apt install blueman
Once installation is finished, you can start Blueman using the command:
blueman-manager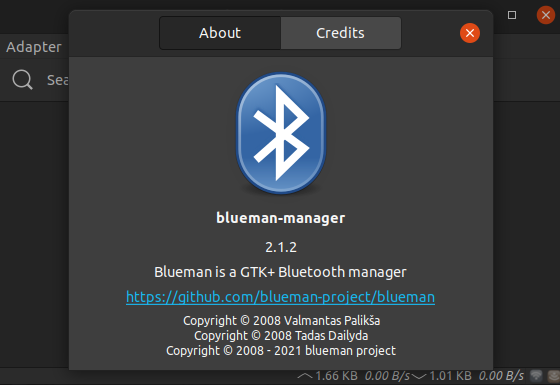 Note: The above command will only execute if you have a Bluetooth dongle connected to your Ubuntu system. So, connect it before running the "bluetooth manager" command.
Enabling Bluetooth
On Linux Distros like Ubuntu, Bluetooth is already set up. You can check that by running the following command in terminal:
sudo systemctl status bluetooth.service
If it's running, then no need to follow the below steps, you can go ahead with connecting Bluetooth devices.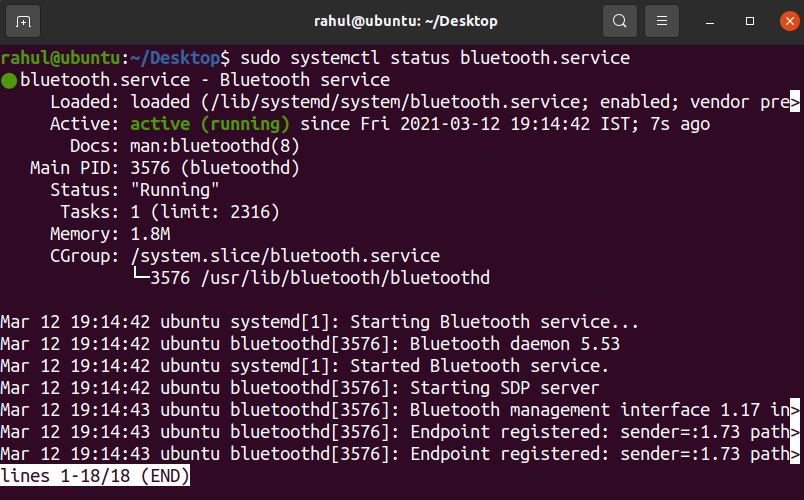 If it is not running, then follow these steps:
Run the following command, if you are using a Bluetooth dongle:
modprobe btusb
To start the Bluetooth service, run this command:
sudo systemctl start bluetooth.service
To make it persistent after reboot, use this command:
sudo systemctl enable bluetooth.service
Finally, check the status of Bluetooth service using:
sudo systemctl status bluetooth.service
Now, it should be running.
Connect Bluetooth Devices
Connecting to a Bluetooth device using Blueman is very intuitive.
Just make sure the devices are discoverable and in range, then it will show in the Blueman dashboard from where you can easily connect to the devices.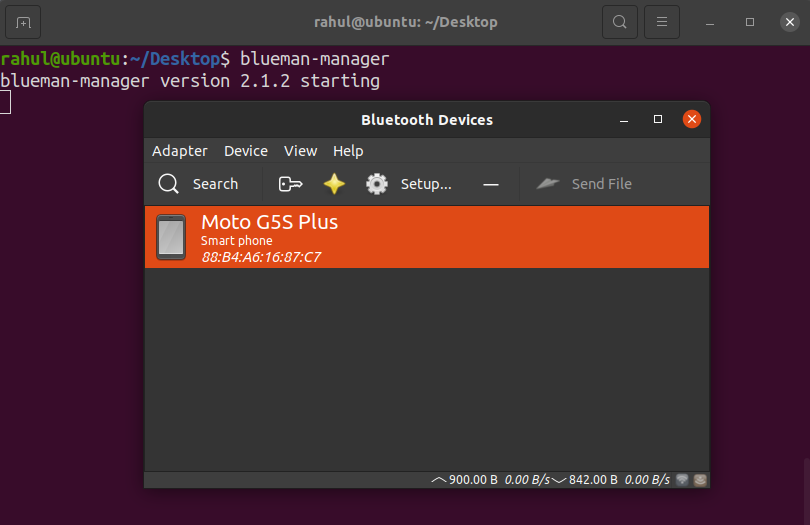 Conclusion
I hope this tutorial helped you to set up Bluetooth and Blueman on Ubuntu without any problems.
Now, you can easily connect any Bluetooth device like headphones or speakers to your Ubuntu System. There are many great Bluetooth peripherals like headsets, speakers and webcams available on Amazon.
If you like this post, then follow Techsphinx on Facebook and Twitter for more reviews, tricks, tips and tutorials.
This article needs update or correction? Report the issue here so I can update it.