This post may contain affiliate links/ads and I may earn a small commission when you click on the links/ads at no additional cost to you. As an Amazon Affiliate, I earn from qualifying purchases. Techsphinx also participates in the StationX Affiliate program. You can read my full disclaimer here.
In this post, I will explain what are elementary tweaks, what are the various customization it provides and how to install elementary tweaks on Elementary OS?
What are Elementary Tweaks?
Update: From Elementary OS 6 (Odin), "Elementary tweaks" has been renamed to Pantheon tweaks.
"Elementary tweaks" is an essential package if you want to tweak Elementary OS.
Without elementary tweaks, it will be hard for a new user not only to customize elementary OS but also to minimize the applications.
Yes! by default you cannot minimise the apps in elementary OS. This is weird, I know, but this is how it is.
Other than minimising function, elementary tweaks provide many other customizations.
Customizations Provided by Elementary Tweaks
Here are the customizations that elementary tweaks provide.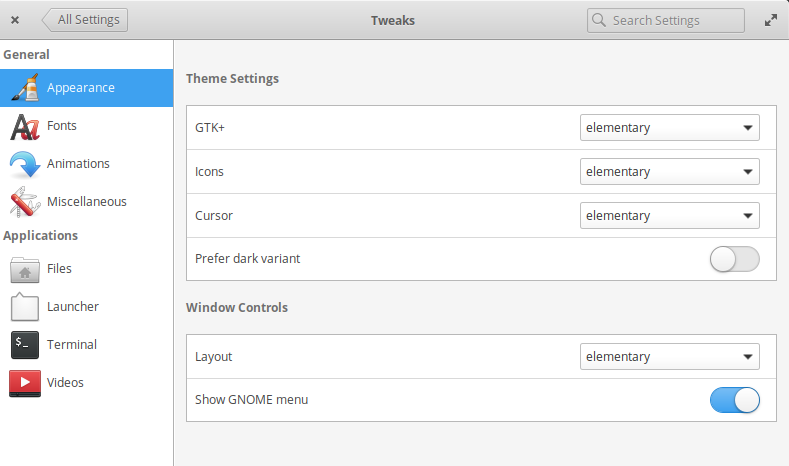 1. Appearance
The appearance section allows you to customize GTK+ settings, Icons, Cursor and select a dark variant. The "window controls" section allows you to customize the window layout settings and show Gnome menu.
If you want a minimize button, then you can select a different layout that has a minimize button from window controls.
2. Fonts
In the fonts section, you can customize default fonts style and size for System, Document, Monospace, and Title bar.
3. Animations
You can also toggle animations using elementary tweaks. Not only that, but you also have more control on animations like setting its durations for opening, closing, snapping, minimizing and workspace switching.
4. Miscellaneous
The miscellaneous tab contains the max volume you want to use for your system.
5. Files
In the files tab, you have an option to select single click (default) or double click to open a file or folder. You can also set date format and enable restore tabs option.
6. Launcher
Under launcher tab, you have an option to show category view by default.
7. Terminal
In the terminal section, you can customize various options for your terminal like change background color, toggle natural copy-paste, follow last tab, toggle unsafe paste alert, remember tabs and enable terminal bell.
8. Videos
Videos tab gives you options like to stay on top while playing a video or to stop a video from playing instantly and move window from video canvas.
Pre-Requisites
Active Internet connection to download Elementary tweaks package.
Sudo Privileges.
Install Elementary Tweaks
Let's start the installation.
1. Install software-properties-common package.
sudo apt install software-properties-common
2. Add the required repositories.
The pantheon-tweaks repository for Elementary OS 6 (Odin):
sudo add-apt-repository ppa:philip.scott/pantheon-tweaks
The elementary-tweaks repository for Elementary Hera or below:
sudo add-apt-repository ppa:philip.scott/elementary-tweaks
3. Update repositories.
sudo apt update
4. Install elementary tweaks.
For Elementary OS 6 (Odin):
sudo apt install pantheon-tweaks
For Elementary OS Hera and below:
sudo apt install elementary-tweaks
5. Once you've installed pantheon or elementary tweaks, you can remove its repository.
On Elementary 6 (Odin):
sudo add-apt-repository --remove ppa:philip.scott/pantheon-tweaks
On Elementary Hera and below:
sudo add-apt-repository --remove ppa:philip.scott/elementary-tweaks
6. Reboot the system for the changes to take effect.
sudo reboot
Elementary tweaks package is installed on your system, you can now go to system settings and find "Tweaks" there.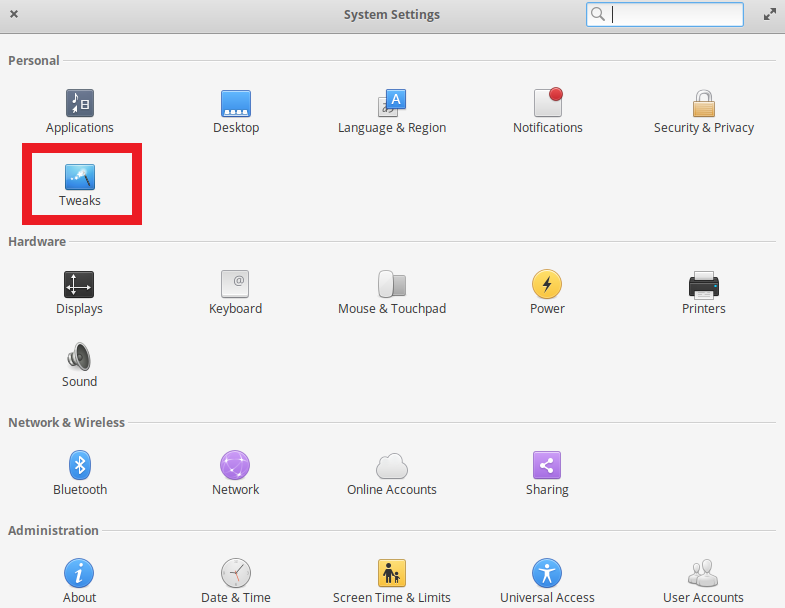 Conclusion
I hope this guide helped you to install elementary tweaks without any problems. You can now start customizing your elementary OS.
I think "elementary tweaks" package is necessary on elementary OS. Especially the minimize option.
What are your thoughts about this? Tell me in the comments.
If you like this post, then follow Techsphinx on Facebook and Twitter for more reviews, tricks, tips and tutorials.
This article needs update or correction? Report the issue here so I can update it.