This post may contain affiliate links/ads and I may earn a small commission when you click on the links/ads at no additional cost to you. As an Amazon Affiliate, I earn from qualifying purchases. Techsphinx also participates in the StationX Affiliate program. You can read my full disclaimer here.
Android allows you to set two different security locks to secure your phone. First is the pattern or pin, second is fingerprint, face lock, etc.
Due to the use of fingerprint and face lock, unlocking your phone becomes so easy that you never use the old pattern or pin lock.
So, it's easy to forget pattern or pin that you set and never use (Most people don't but some do).
If for some reason you get locked out of your phone due to incorrect fingerprint or face lock for 5 times. The only option you've got is the pin or pattern you set.
Now the only official way to remove the pattern or pin is to factory reset your device. However, there are some unofficial workarounds. In this post, I am going to show you how to unlock android phone password without factory reset.
Let's get started.
Methods to Unlock
There are 3 methods shown in this post for unlocking android device lock screen. Each method will work only if specific conditions are met. Please read carefully and see which methods suits your current situation.
Using Android Debug Bridge (ADB)
For this method to work,
You must have a rooted device and USB debugging enabled with root access.
Your phone should always allow adb connections from a particular PC / Laptop.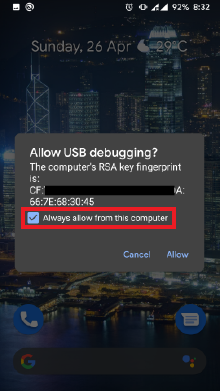 Your phone should remember your computer. Otherwise, it will ask for authorisation every time. You can't grant access to it if your phone is locked.
You need both these things configured prior to getting your phone locked.
Using TWRP recovery
This method will only work if you have TWRP recovery or any other recovery that has an inbuilt file manager installed on your device. You can even install TWRP recovery after your phone is locked only if bootloader is already unlocked on your device. Unlocking bootloader will wipe all the data on your phone.
So, if you don't have unlocked bootloader or custom recovery installed, this method will not work for you.
Using Aroma File Manager
Just like the TWRP method this method also needs a custom recovery installed. In this method any custom recovery will work (with or without an inbuilt file manager).
If you don't have USB debugging enabled or custom recovery installed prior to getting your phone locked, then this post is not for you.
Either you find some other way on the internet to unlock your phone or go for a factory reset.
Let's dive into each method one by one or you can skip directly to the method that will work for your device.
Android Debug Bridge (ADB)
Pre-Requisites for ADB
1. Minimal ADB and Fastboot
2. PC / Laptop to run ADB commands
Unlock Using ADB
1. Download Minimal ADB and Fastboot
2. Extract to a folder from where it's easily accessible (I am extracting it in a folder named "maf" in my "C" drive)
3. Connect your phone to your computer
4. Open windows command prompt and navigate to your minimal ADB and Fastboot folder. (In my case, it's "C:\maf")
cd C:\maf
5. Run adb devices to check if your device is detected or not
adb devices

6. Enter into adb shell
adb shell
7. Change to superuser mode
su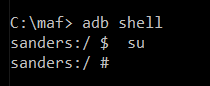 8. Now, navigate to /data/system.
cd /data/system
9. List all the files present in /data/system
ls
10. Remove any file that contains the names;
locksettings.db
locksettings.db-wal
locksettings.db-shm
gesture.key
password.key

Different devices contain different file/files for lock screen, In my phone, it's only locksettings.db
rm -f locksettings.db
11. Reboot your device for the changes to take effect.
reboot
When your device starts, you can enter into the phone without having to face any pin or pattern.
Using TWRP Recovery
A custom recovery provides us with many options like flashing a custom rom, taking nandroid backup, selective deletion of data or even repair our android device.
TWRP recovery is one of the best recovery made for android device, it supports almost every android device out there.
It also has an inbuilt file manager which we will use in this method.
You can check out my Best custom recovery for Android devices 2020 post if you want to know about the best recovery available for your android phone.
Pre-Requisites
TWRP Recovery installed on device.
Unlock Using TWRP
1. Boot into Recovery Mode. (Using button combinations for your device)
2. Click on Mount
3. Make sure the System partition is checked.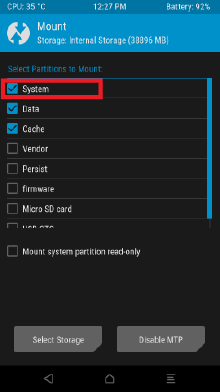 4. Go back and click on Advance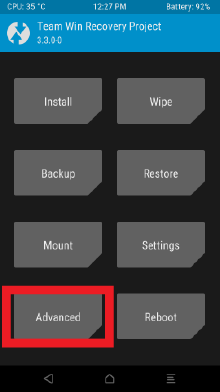 5. Click on File Manager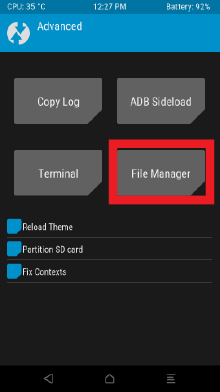 6. Navigate to data/system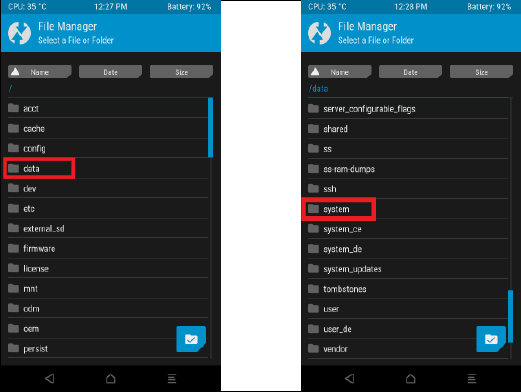 7. Click on locksettings.db file and delete it.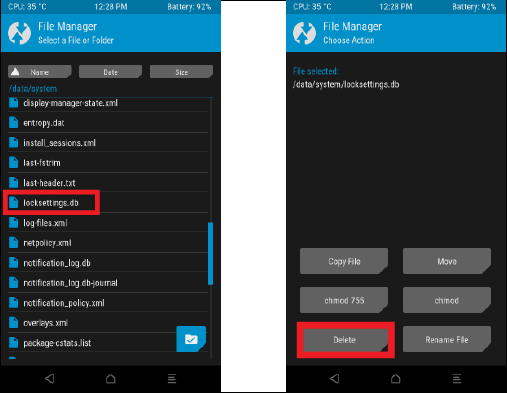 8. Reboot to system.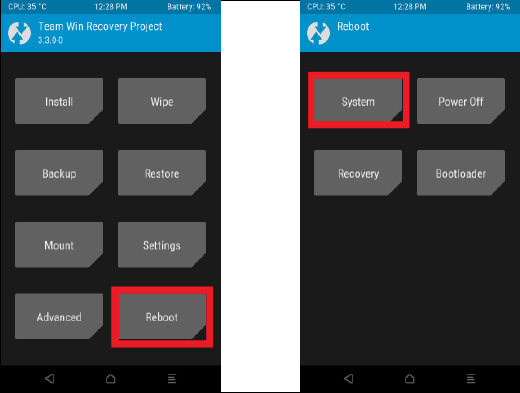 Now, when the device starts, you'll notice your lock screen removed. Go on and set a new lock screen for your device.
AROMA Recovery File manager
If your recovery doesn't have any file manager support (like CWM recovery), then you'll need to flash your own file manager to get the job done.
The method is similar to the TWRP method shown above, the only difference is flashing of a custom file manager.
Pre-Requisites
Aroma File Manager zip file
Unlock using AROMA
1. Download Aroma File Manager
2. Copy Aroma File Manager zip file from your pc to your phone.
3. Reboot to recovery
4. Flash Aroma File Manager (Click on "Install" on TWRP recovery, select the aroma file manager zip file and swipe to install)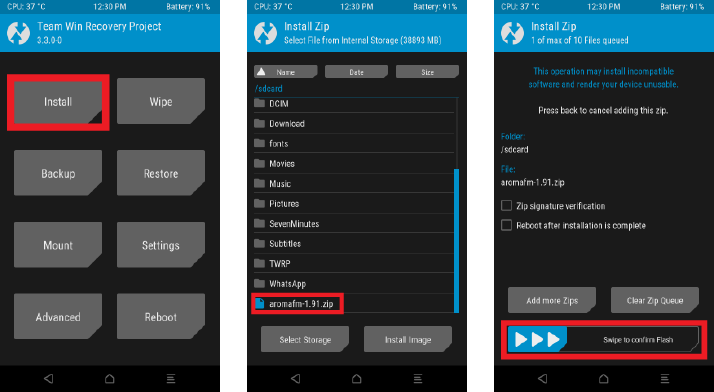 5. If flashed correctly, you'll see the file manager ready for action.
6. Now, go to data/system
7. Delete the locksettings.db file.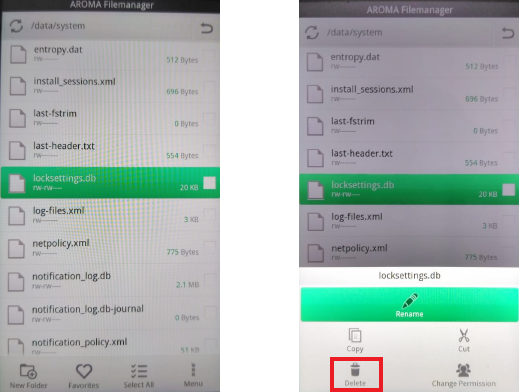 8. Click on Menu (3 dots at the bottom right of the file manager) and select exit.
9. Once the file manager exists, you'll be back to your custom recovery.
10. Reboot your phone.
If everything done correctly, your lock screen will be removed.
Conclusion
So now you know how to unlock android phone password without factory reset.
Google has removed many methods that used to work to unlock android phone. The methods I mentioned in this post are performed on Android 10.
If you have an older android device, search the internet you'll find a way to unlock it without losing data.
If you want to secure your android phone, then check my post How to secure an android phone in 2020?
Share this post if you liked it and if you find any other way to unlock your android phone without factory reset, then tell me in the comments, I would like to improve my knowledge.
If you like this post, then follow Techsphinx on Facebook and Twitter for more reviews, tricks, tips and tutorials.
This article needs update or correction? Report the issue here so I can update it.