This post may contain affiliate links/ads and I may earn a small commission when you click on the links/ads at no additional cost to you. As an Amazon Affiliate, I earn from qualifying purchases. Techsphinx also participates in the StationX Affiliate program. You can read my full disclaimer here.
This post will help you choose and install the best task managers for Elementary OS.
Task manager, system monitor, process manager, process monitor etc. (You can call it whatever you want) is a tool that will help you to monitor and manage processes on your system.
Task managers help you to identify (and even stop) the process which is putting high load on your system. It is also the first thing that comes to mind when our system gets hanged.
But not all task managers are same, some have a clean and simple design with only essential functionalities and others have advance features through which you can have full control over the resources of your system.
Let's look at some of the best task managers available for Elementary OS.
Elementary OS Task Managers
As you already know, the task manager is an important tool for system management but if you have installed Elementary OS, you'll realise that it doesn't ship with a task manager.
(By default, you cannot even minimize your apps in Elementary OS, but that can be solved by installing elementary-tweaks.)
Anyway, it's left to us to install a task manager for Elementary OS. Therefore, in this post, I present you with my 3 recommended task managers that will help you to manage and monitor the system.
You can choose to install any task manager from the list that you find useful.
Note: Elementary OS has "top" command pre-installed, but I will focus task managers that will be easy to use even for a beginner.
Gnome System Monitor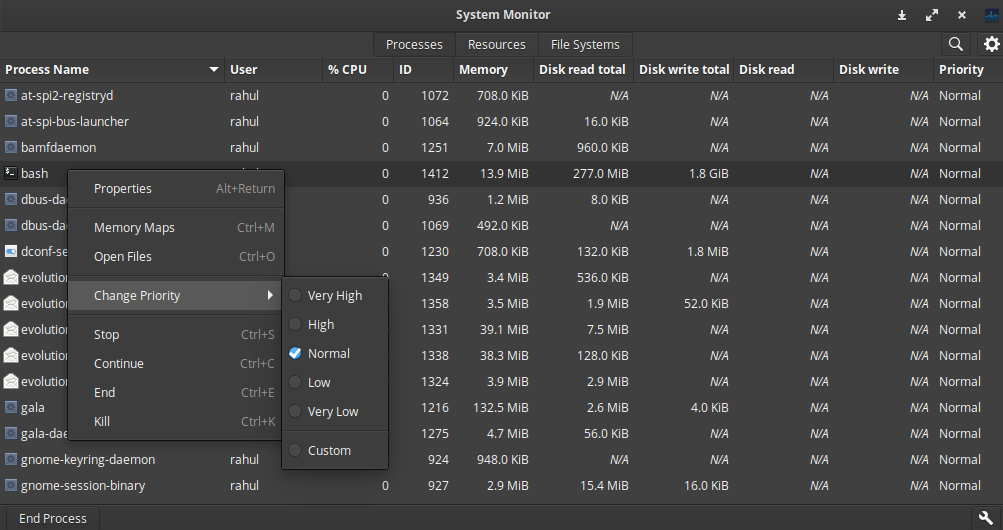 If you want a simple, elegant and easy to use graphical task manager, then GNOME system Monitor is the best choice for you. It is also the most preferred system monitor among Elementary OS users.
It comes pre-installed with systems that ship with GNOME Desktop Environment. You can also install and use it with Pantheon (Desktop Environment of Elementary OS) without any issues.
Now, let's look at some features of GNOME System Monitor.
Features
Has a Graphical User Interface.
Monitor Processes on your system.
Control process behaviours (Stop, Kill, Change Priority etc.)
Search for open files.
Monitor CPU, Network history, Memory and swap usage
Monitor File Systems (available space, used space, Type, mount point etc.)
Installation
GNOME System Monitor is available with Ubuntu software repository which is pre-loaded in the Elementary OS. You can also install it graphically via App center.
Here I am installing it via terminal. So, open the terminal and run the following command:
sudo apt install gnome-system-monitor
Once, installation is finished, you can launch GNOME System Monitor from the applications menu or launch via terminal using the command:
gnome-system-monitor
Usage: I have written a complete guide on using the Gnome system monitor to monitor and manage Linux processes. You can check that post if you want to see GNOME system monitor in action.
Stacer System Optimizer and Monitor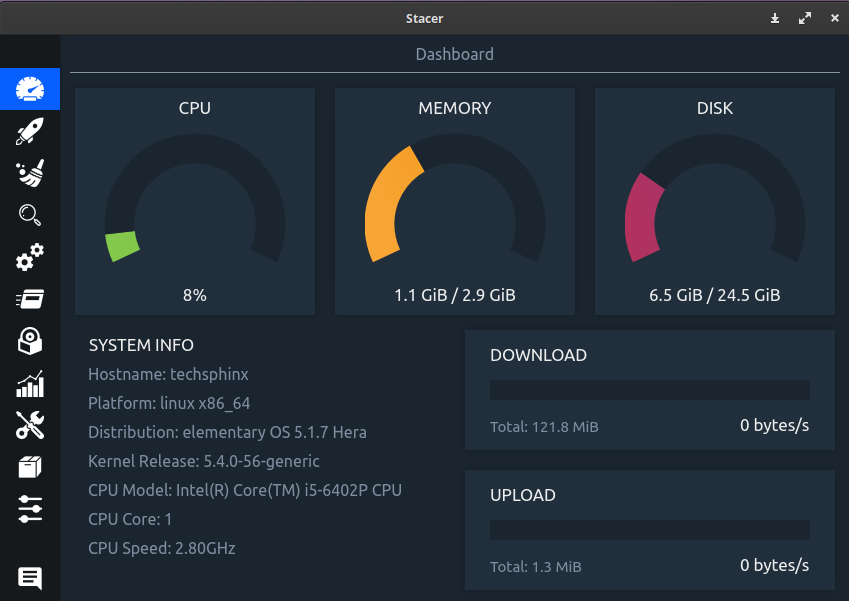 Stacer is not only a monitoring tool, but it is also a system optimizer. You can do all the optimizing work like cleaning cache files, manage start-up applications and uninstalling installed apps from Stacer itself.
If you want an all-in-one tool that can both monitor and optimize your system, then there is no better option than Stacer.
Let's have a look at all the amazing features Stacer has to offer.
Features
Has an easy-to-use Graphical Interface.
Provides System Info.
Monitor CPU, Memory, Disk and Network Usage.
Show or Add startup applications.
System Cleaner to Clean Caches and logs.
Monitor and Manage Processes
Manage system services.
Has Built-in App Uninstaller.
View history of resource usage (CPU load, Disk usage etc.) using graphs.
Built-in APT – repository manager.
Display Manager settings.
Options for alert messages, if system resources exceed the set value.
Installation
To install Stacer first add the official ppa repository.
sudo add-apt-repository ppa:oguzhaninan/stacer -y
Now, update your software repositories.
sudo apt update
Finally, install Stacer using the apt command.
sudo apt install stacer -y
After installation, Stacer can be accessed from the applications menu or using the command:
stacer
Usage: You can check my complete guide "Install Stacer to Monitor and Optimize Linux System" if you want to know about all the options that Stacer has to offer when it comes to managing and optimizing your system.
HTOP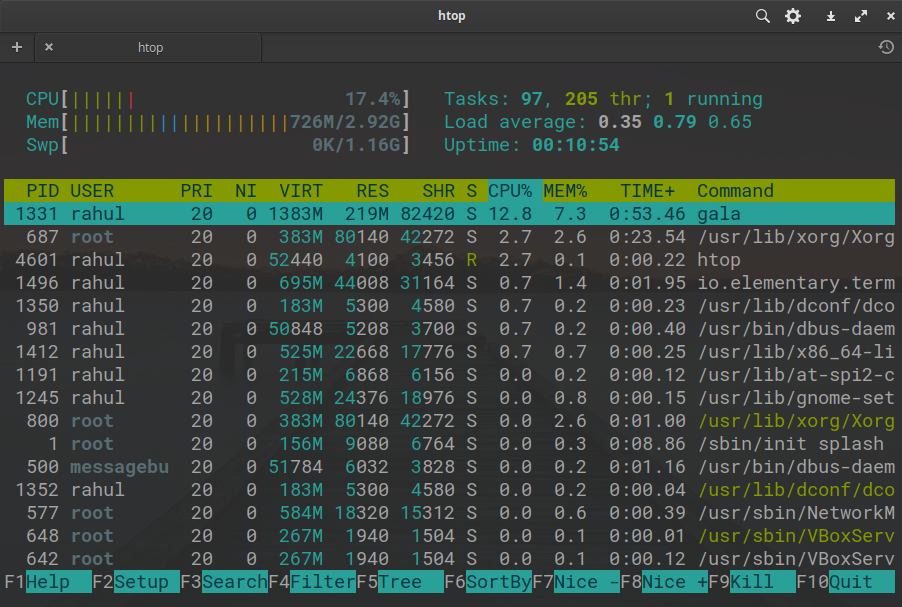 Unlike the other two on this list, HTOP is a command-line task manager. HTOP is useful if you want to perform some advance management tasks on your system.
Although it has a command-line interface, you can still use the mouse to interact with HTOP, which makes it an ideal tool for beginners and professionals alike.
Elementary OS is always treated as it the only an OS for beginners, but that's not true. Don't get fooled by its great-looking GUI, it is a powerful OS, that is even useful for professionals.
If you are planning to stick to Linux for a long time, I recommend you to get comfortable with terminal and terminal-based utilities.
Features
Has Interactive Command-Line Interface.
Highly Customizable according to your needs.
Shows real-time CPU, Memory and Swap usage.
Shows Process and Process-related info (PID, Command, Resources etc.)
Manage Process (Change Priority, Kill, Sort process etc.)
Shows Number of Tasks, Load averages and System Uptime.
Tagging feature (Tag and kill multiple processes at once)
Ability to Strace a process.
Has Mouse support.
Installation
HTOP is also available in the software repository of Elementary OS. So, you can install it using the "apt" command.
sudo apt install htop
after installation, start Htop using the command.
htop
Usage: I have written a complete guide on how to use HTOP to monitor and manage system processes on Linux. Check that out!
Conclusion
This post has covered the best task managers for Elementary OS that you can use to monitor and manage your system. Also, I have written detailed posts on using each and every task manager present in this post. Don't forget to check them out.
There are other task managers for Elementary OS out there, but I personally recommend these three.
Which task manager do you use/recommend for Elementary OS?
Tell me in the comments.
If you like this post, then follow Techsphinx on Facebook and Twitter for more reviews, tricks, tips and tutorials.
This article needs update or correction? Report the issue here so I can update it.